How to book a Masai Mara Safari?
The easiest way to book a Safari in Masai Mara Kenya is by contacting a reputable Safari operator. Booking through a tour operator is arguably the most affordable way to plan and book a safari to the Masai Mara Kenya. Take this step at least two months from your dates of travel which is to enable your Kenya tour operator to make all your preferred hotel, Park, and all bookings on time. Late bookings often result in cancellations with lodges in the park especially in the high peak Safari seasons due to fully booked accommodations and safari activities.
Booking your Masai Mara Safari can either be made through a local ground Kenya operator or a tour agency at home. In most cases, a domestic tour operator to the Mara will possess greater in-depth knowledge of the terrain and can offer more competitive rates. At Masai Mara Holidays Limited, We are a registered local operator reputable for top-notch services over the years as testified by our previous travelers. Our timely safari experts are always happy to offer you never-ending safari advice and it is always a pleasure handling your booking carefully fitted to your preferences.
Popular Masai Mara Safari Tours
Most of the Masai Mara Safaris booked with safari operators are private driving safaris in which you are driven by your allocated guide/driver from park to park. You generally have the same guide throughout the safari who should have good knowledge of Masai Mara and all the other parks you plan to visit.
Not to say that Masai Mara safaris as booked with tour operators are only driving safaris, depending on your interests, these safaris can also be flying safaris or a combination of some driving and flying, however, driving safaris are usually less expensive compared to flying safaris. If you are having trouble deciding between flying or driving safaris; simply put into account the amount of time it takes to get from Masai Mara National Reserve to other destinations you will be visiting, the quality of the roads, and whether or not there will be something enroute that will be of interest to you, compare the cost of doing some or all the flying on your safari. Some driving safaris make good sense as the parks are close to each other or there are stopovers along that way that are of interest.
How do you tell a reputable Masai Mara Safari Operator?
When choosing a Kenya Masai Mara Safari Operator to book your safari, there are a number of issues that you should consider;
Does the person or company you are reaching out to have extensive personal experience traveling in Masai Mara National Reserve and the areas you intend to visit? Always checkout the past reviews of a company before any immediate step towards getting in touch with the company. A worthy Masai Mara safari operator has good reviews based on most of the Safari tours the company has operated over time. This is also a good place to find out references of clients who have recently traveled with a company. At Masai Mara holidays we are reputable for memorable safari experiences as mentioned by reviews from our past Travelers.
You may also want to find out if your Masai Mara Safari operator offers the type of safari that best fits what you are looking for. Many companies cater to niche markets. Even though the company may come highly recommended to you, it may not turn out the best company for the experience for which you are looking for.
This may not come as a major point to note but are enjoying working with your Masai Mara Safari Operator? Planning the Kenya Safari of your dreams should be enlightening, educational, and fun.
Generally, your Masai Mara Safari is about experiencing Africa's best wildlife reserve and it is quality people assisting you by booking the right Kenya Masai Mara Safari for you and people maximizing that experience on the ground that counts.
Types of Masai Mara Safaris
There are a number of things to consider when deciding what type of Masai Mara safari to book. These include whether to fly or drive to the reserve, whether to travel as part of a group or in a private party and whether to stay in simple Masa Mara campsites, large mid-range Masai Mara lodges, or smaller and more upmarket Masai Mara bush Luxury camps.
To some extent, these decisions come down to choosing between a cheap Kenya safari Masai Mara option and an expensive one – a driving Masai Mara safari with budget tented camps will cost a fraction of a private Masai Masai Mara fly-in safari using exclusive Masai Mara bush camps and lodges. Other than budget, the decision is purely a matter of personal taste. Flying to The Mara reduces transit time and places fewer geographic restrictions on the itinerary. However, flying to the Mara for safari creates a greater distance between travelers and the countryside and people of Kenya.
Budget Masai Mara Safaris
Budget Private Masai Mara Safaris are touted for a little as $150 per person per day with room sharing in a comfortable basic tented camp, but a private budget Kenya safari Masai Mara with a reliable Masai Mara operator costs $200–300 per person per day, these figures differ with the group size, the duration of the safari, exactly where and where you'll be going. Nights are usually spent in comfortable tented camps inside the Mara, or in cheaper ones outside. Game drives are facilitated in a 4×4 safari land cruiser or a 4×4 safari Van depending on your Masai Mara Safari Operator.
Mid-range Masai Mara safaris
For $350–500 per person per day with room sharing in a midrange tented camp or lodge in Masai Mara, you get a private midrange Kenya Safari Masai Mara accommodated in wildlife lodges or at the more basic tented camps, which have proper rooms (or walk-in tents that are much the same), restaurants, bars and often also swimming pools. Some can be wonderfully intimate, but most are large (eighty rooms or so). Game drives are facilitated in a 4×4 safari land cruiser or a 4×4 safari Van depending on your Masai Mara Safari Operator.
Luxury Masai Mara Safaris
Spending $500–900 per person a day with room sharing gets you a private "tailor-made" Luxury Masai Mara safari that could include flights to the park – dispensing with the road transfer discomfort and time wasted on road transfers. On your luxury Kenya safari Masai Mara, expect the guiding and service should be top-notch, as should the tented camps you'll be staying in, some of them amazingly luxurious affairs straight out of the pages of Condé Nast. Pulling out all the stops, for a blistering $1500 a day and up or thereabouts you can treat yourself to a Hemingwayesque "mobile camping safari in Masai Mara", with fly-camps set up in the bush before your arrival each evening, champagne breakfasts (actually sparkling wine), and a rifle-toting ex-pat as your wildlife guide. The main disadvantage to Super luxury Masai Mara Safaris is the almost total exclusion of Kenyans from the safari and its profits – most of these outfits are owned by Europeans or South Africans. Game drives are facilitated in a 4×4 safari land cruiser.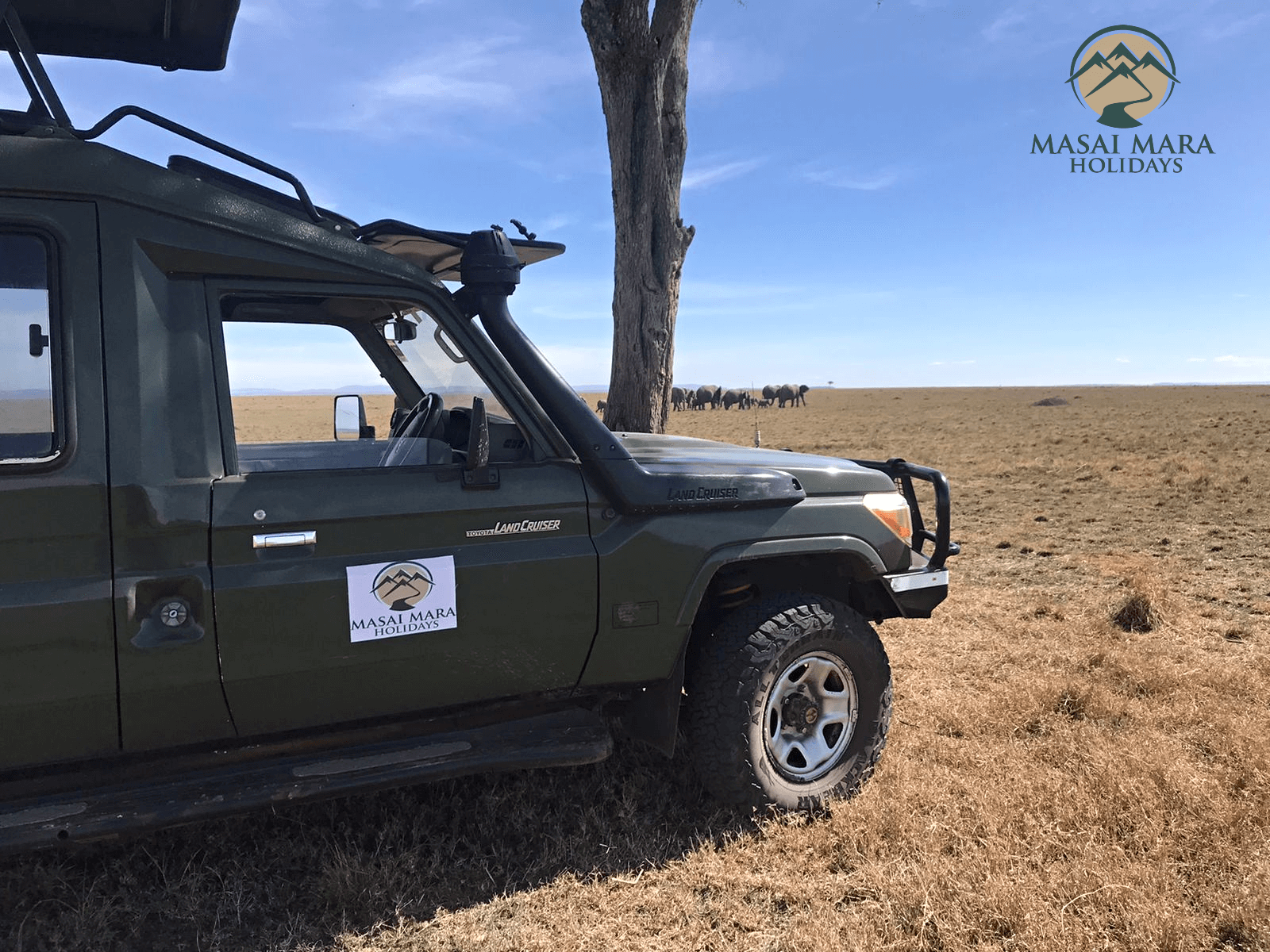 A private Masai Mara Safari (recommended) allows for a greater degree of autonomy, especially for those with special interests. Once you are in contact with your carefully picked Masai Mara tour operator, it's now up to you to choose from the list of tailor-made Maasai Mara Safaris they offer or let them know of your desired travel plan and safari preferences, feel free to ask your operator for a free quote.
Choosing your Masai Mara Safari Itinerary
The most suitable Kenya Safari Masai Mara itinerary depends greatly on how long you want to spend on safari, what you hope to see, your budget, and whether they fly or drive between different reserves. Most of the Masai Mara safari itineraries can be customized to driving or flying safaris. The Masai Mara is the best starting point for first-time safari-goers in search of the Big Five. By road, it is often combined with the Rift Valley lakes and the tree hotels of the Central Highlands, but by air, it could as easily be twinned with Amboseli National Park. SamburuBuffalo Springs is good for repeat safarigoers, Meru is the best for untrammeled wilderness and Laikipia Plateau is great for walking and night drives. It is advisable to prepare an itinerary with a reputable Masai Mara tour operator.
Thankfully, Kenya and East Africa at large are blessed with some of the world's most epic adventures, and at Masai Mara Holidays Limited, we always advise our visitors to combine a Kenya Safari Masai Mara safari with a visit to Tanzania's adjacent Serengeti National park, consider a Mount Kilimanjaro climb, or a relaxing beach holiday in gorgeous Mombasa or Zanzibar. Our carefully crafted Masai Mara safari tour itineraries feature the best of Tanzania, Uganda, Kenya and Rwanda's major Safari landmarks. One of manys' favorite Masai Mara Safari additions is a journey to the Uganda or Rwanda highlands to meet rare mountain gorillas. Here you get up close and personal with these animals in a remote, mountainous jungle environment. For those with the time, these nearby adventures can complement your safari fantastically.
Do you prefer designing your own travel agenda?
At Masai Mara Holidays, we let you plan your entire holiday with proper timely assistance from a travel expert from our team. Let us know your ideal Kenya safari Masai Mara preferences air plan so we can get it into a reality. One thing we highly don't recommend is planning a safari in Masai Mara by yourself, this often results in a terrible experience on a safari. We have witnessed travelers that have missed out on their booked activities due to earlier challenges either in Nairobi or poor booking and transportation problems. It is advisable you get in touch with a Masai Mara safari operator who will be fully responsible for your safari to ensure you have a memorable time spent at nearly the same cost.
Masai Mara Lodge or Camp Operated Safaris
All lodge or camp-operated Masai Mara safaris are flying safaris in which you are flown from Nairobi to Masai Mara National Reserve. You are picked up at the airstrip upon arrival to the park and driven to your booked accommodation. Masai Mara National Reserve has a number of airstrips and which one to land all matters with which accommodation you have booked. It is advisable to inquire about the closest airstrip to your preferred accommodation before you book your flight.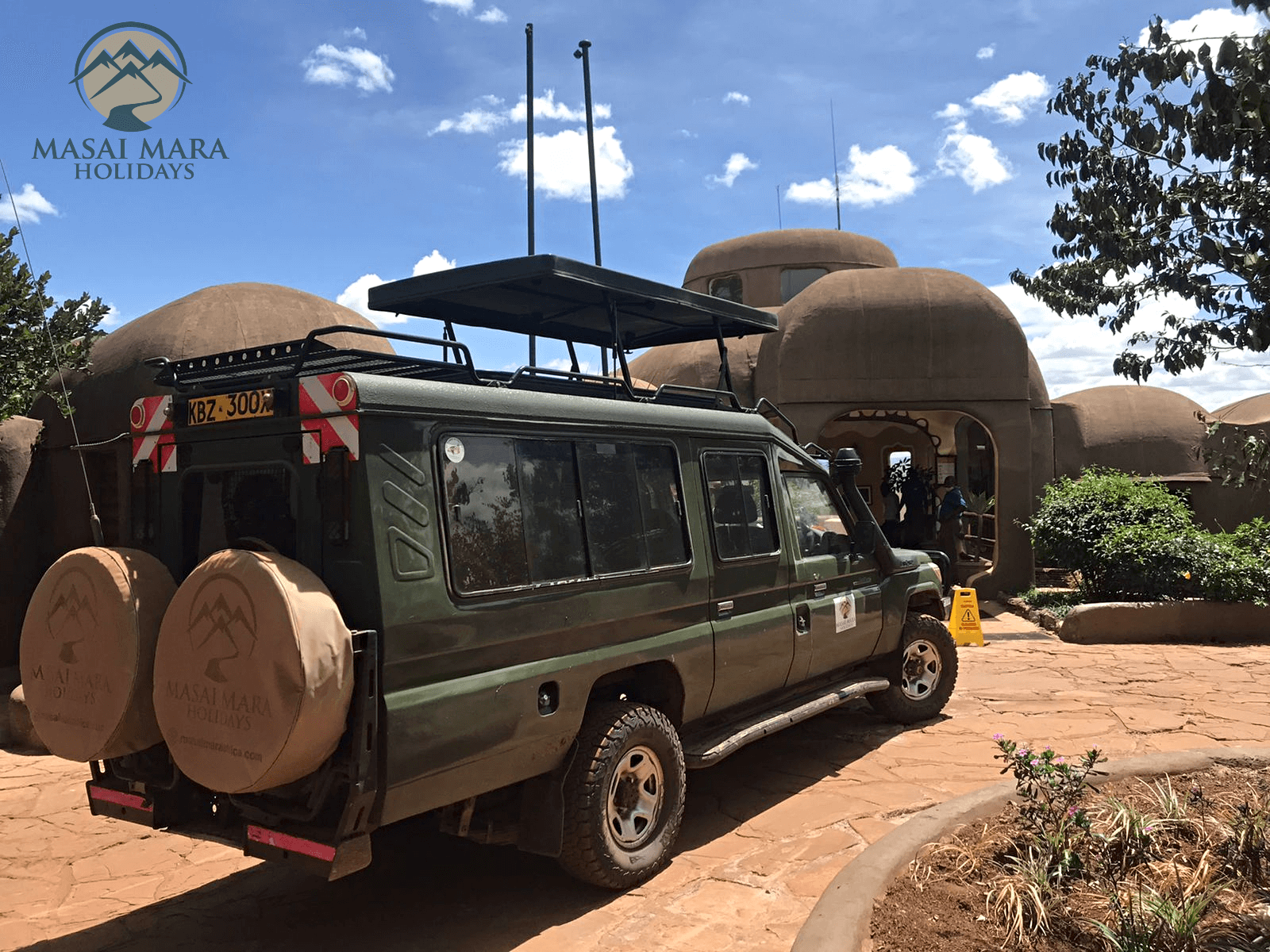 With this type of Masai Mara booking, the safari is fully operated by the lodge or camp, guides and vehicles are based at the camps and lodges at which you will be staying. It is important to note that game drives and park activities are shared with other guests staying at the lodge or camp. This type of booking is popular among visitors that want to maximize time in the Park as the time that would have been spent on road transfers between the parks may instead be spent game viewing. This is also the most expensive way to book your Kenya Safari Masai Mara.
Discounted prices for a Masai Mara safari booking
Are you looking for discounted prices for a Masai Mara Safari? Take advantage of the low season in the Maasai Mara, this is a time in the Mara where travelers are fewer, it's rainy and the Great Migration is out of sight. Nevertheless, this is a perfect time to go on game viewing for the big cats, they are plenty in numbers around this season of the year. The low season in Masai Mara National Reserve starts from April to early June, the months come with discounted prices especially on accommodations within the Park unlike the high prices associated with the high peak seasons in the Mara. Nevertheless, at Masai Mara holidays, we often have discounted prices for most of our safari holidays to Masai Mara. Simply contact an expert from our team to get in touch and plan out a perfect safari for you
Confirming your Masai Mara Safari booking
Upon concluding choosing your perfect Masai Mara Safari package from a reputable operator of your choice, it is time to confirm your Masai Mara Safari booking. A complete Kenya Masai Mara Safari package should encompass an agreed price as proposed by your Operator, this price is usually stated per person. Furthermore, detailed price inclusions and exclusions should be properly stated in addition to the accommodation options where you will be spending your safari.
How do you confirm your safari booking?
A Masai Mara safari booking is considered a confirmation once pay you a portion of your quote as requested by your tour operator. This portion can range from 30% to 60% of your quote depending on the company's policy. This also depends on how much a safari operator would need to make all the necessary bookings in advance. Many travelers are scared of how much money tour operators ask for to confirm a booking but it is always advisable to adhere if you are certain the tour operator is worthy as we mentioned earlier. Money transfer can be in various ways but most professional safari operators should at least be able to accept Visa Card Payments and Direct Bank wire.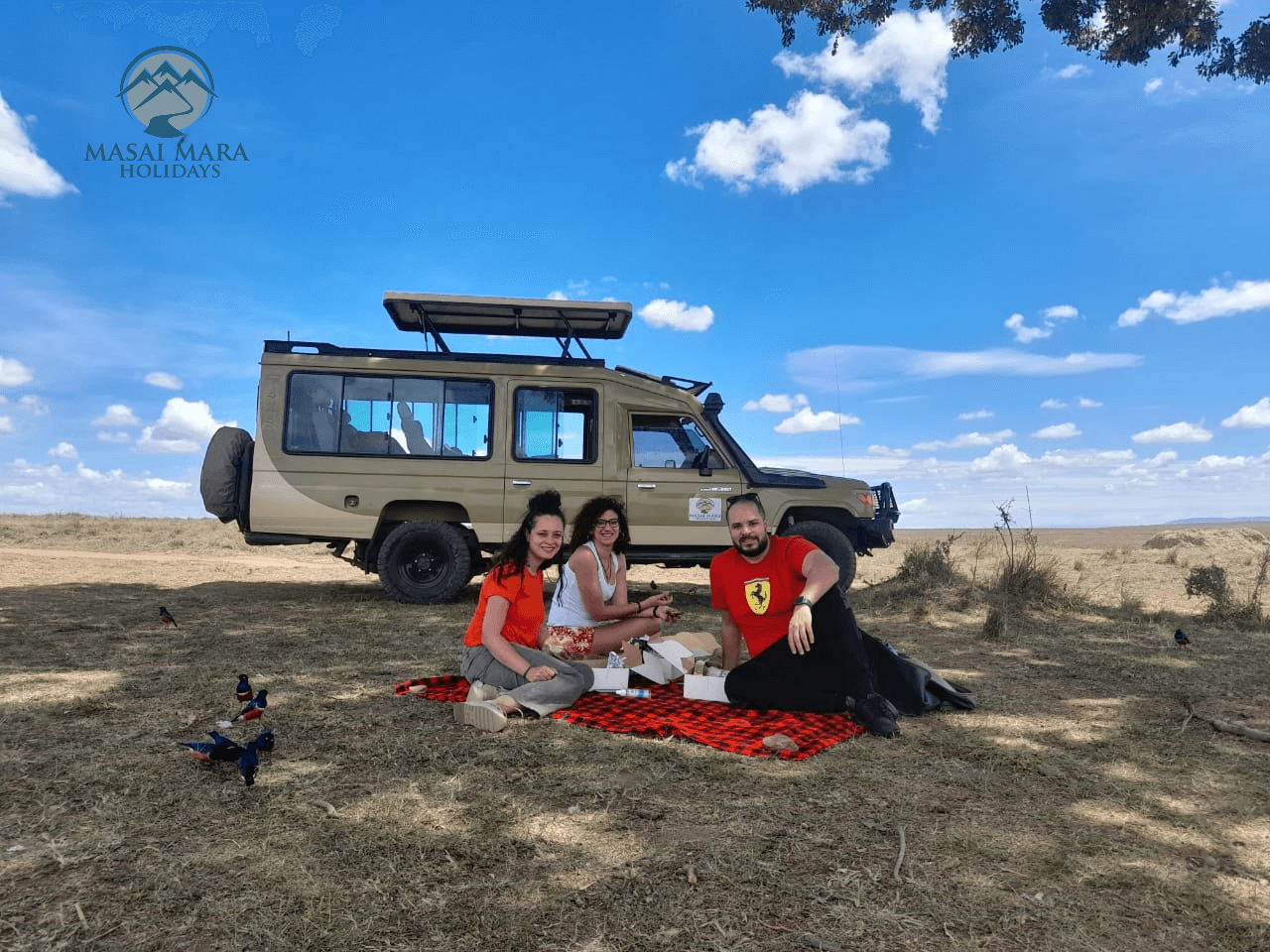 Once you have confirmed your Masai Mara Safari booking, your tour operator will send you a receipt as proof of payment. Considering the company's policy, expect to make a second payment as your travel dates get closer. This will be a full amount payment of your quote as stated by your safari operator. This as well comes with a receipt of proof of payment
Requirements for your Masai Mara Safari
As your travel dates draw closer, you are required to apply for a tourist visit visa to Kenya, this can be done on this portal.
Online Kenya Visa Application
Access the evisa portal
Create an account
Select the single entry visa
Apply for the visa and pay with a valid credit card
Await approval via email, then download and print the eVisa from your eCitizen accounPrint the visa before you travel for a presentation at the immigration.
Print the visa before you travel for a presentation at the immigration.
Note: It takes at least 2 working days to get your eVisa.
You are required to have a valid passport with at least two blank pages and at least 6 months validity. Should your safari go beyond Kenya that is to include: Uganda or Rwanda. It is best you apply for an East African Tourist visit visa which guarantees you access to all the named East African countries as listed above.
Health Requirements
Once you have booked a Safari holiday to Masai Mara, there are health requirements you are expected to meet. As soon as your travel dates clock, You may need a yellow fever certificate when entering Kenya from certain destinations. Check whether you need a yellow fever certificate by visiting the National Travel Health Network and Centres. If you do need one the carry this certificate of vaccination with you upon your arrival at Jomo Kenyatta international airport.
Safari in Masai Mara – What to Expect?
You haven't been to Kenya until you have been to the Masai Mara safari. A minimum of 3 days is required to explore Masai Mara National Reserve on a safari, should you have more than 3 days for safari the better it is as you can explore the park for 4 to 5 days for an ultimate safari experience.
Kenya Safari Masai Mara experience unfolds with day 1, pick up time which is usually from your place of residence in Nairobi at 6:00 to 7:30 am in the morning depending on your preference. At Masai Mara Holidays, our drivers are known to always arrive early so be sure to be ready on time as you don't want to be stuck in the morning traffic jam, especially in Nairobi. We hop into our private 4×4 Safari Landcruiser or van to start our Masai Mara safari. This is always the same safari vehicle we use for our entire Masai Mara safari and game drives. We enjoy a scenic drive through the beautiful suburbs of Nairobi to reach Maasai Mara National Reserve at around 1 am.
You know you've made it to the Maasai Mara when you see those toll stations where the Maasai people collect park entry fees to let you go through. There are also a few Masai ladies selling artisanal accessories to you from our safari vehicle.
Along the way to our Masai Mara Safari, we have the first stop at the Great Rift Valley viewpoint at around 8 to 9 am where we enjoy the breathtaking views and sceneries while of course taking some photos. There you can also find a shop selling souvenirs and another one besides selling water, snacks, coffee shop selling tea, coffee, hot chocolate, milk, chapatis, mandazi at pretty decent prices. You could opt to have a great cup of coffee to go for KSH 200, one delicious chapati for KSH 50, or Mandazi for KSH 50 as well. Here we can also access toilets which are situated inside the souvenir shop in case you would like to refresh.
After an almost 30 minute break at the Great Rift Valley, we get back on the road for another two hours to our lunch destination at our booked accommodation in Masai Mara National Reserve. Our booked accommodations for our Kenya safari Masai Mara are usually top-notch, budget, midrange, or luxury accommodation options carefully picked based on their great service and a wide selection of meals.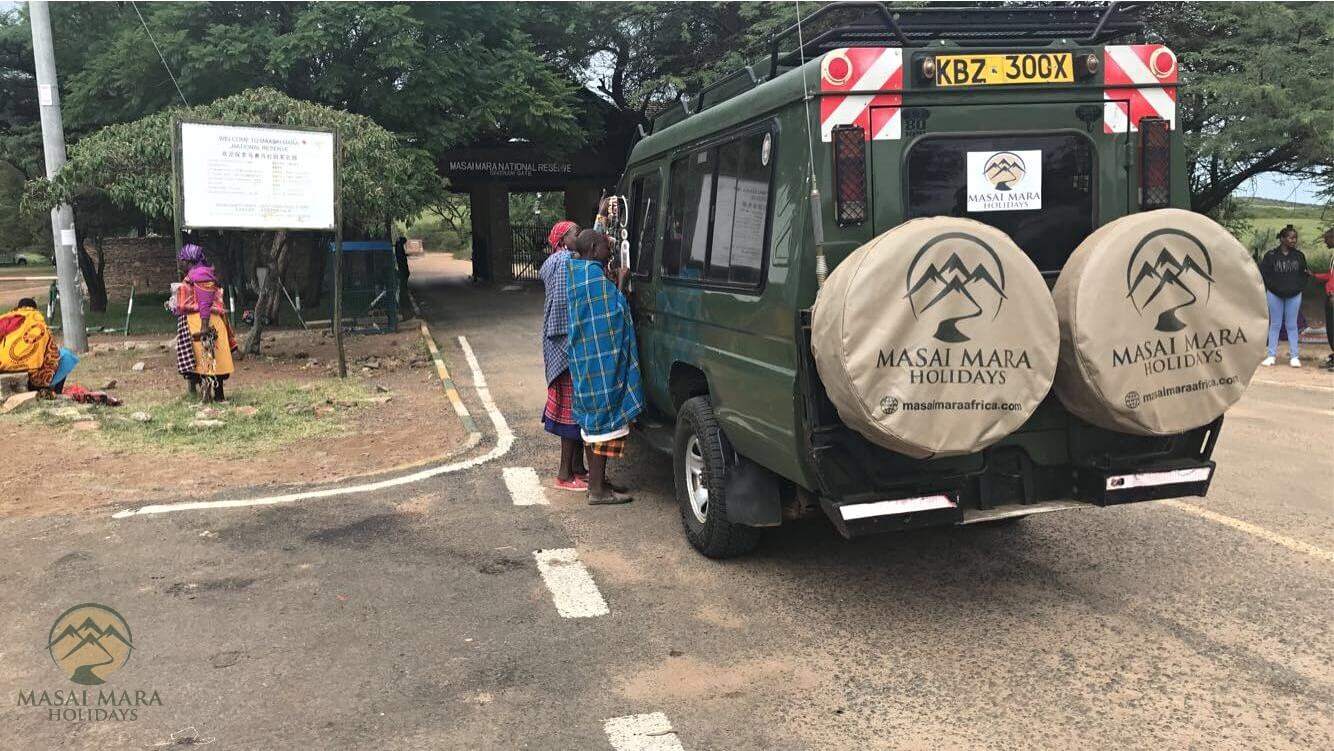 Depending on your Masai mara safari package type preference, we are happy to recommend good accommodation options to suit your budget. Upon arrival at the accommodation, we are also briefed about the different timings for electricity and hot showers as well as our mealtime. Most accommodations have electricity from 5:30 to 6:45 in the morning and 6:30 to 10:30 at night. The water supply could be restricted too. Our tents or lodge options for our Masai Mara Safaris are pretty decent with proper mosquito nets and an ensuite bathroom. It is literally in the wilderness which many of our visitors consider so cool! You could even see wildlife grazing within the proximity of your tent.
After a yummy lunch, we take some time off at our accommodation to relax and refresh. At 4 p.m, our driver opens our safari vehicle's rooftop and off we set off for our first adventure game drive in Masai Mara National Reserve. It is always surreal! Expect to see giraffes gracefully walking around. It is always such a beautiful sight! Dazzles of zebras and wildebeest peacefully grazing in the wide plains. We also get a chance to circle around the prides of lions, hyenas, leopards, and cheetahs.
You will be amazed at how nature works as there is a high chance you will see all these just in barely two hours into our Masai Mara safari! This is nothing like in a zoo! It's a different thing altogether to see animals in their own natural habitat, going around with their daily business. It's a whole new way of appreciating those animals. On top of that, we get quite close to the animals, giving us the opportunity to take close photos and videos on our Masai Mara Safari. Our drivers are very experienced too and know just the right spots to take us up close to the animals. The end of our first Masai Mara safari evening always sets a tone for the start of our pain and suffering experience as we wave goodbye to the resident wildlife to return back to the accommodation at around 6:30 p.m for dinner and overnight stay.
The next day we enjoy 6 to 10 hours interacting with resident wildlife on full-day game drives on our Kenya Safari Masai Mara. We wake up early by 6:00 to leave our accommodation by 6:30 for full-day Masai Mara safari game drives with organized bush breakfast and picnic lunch.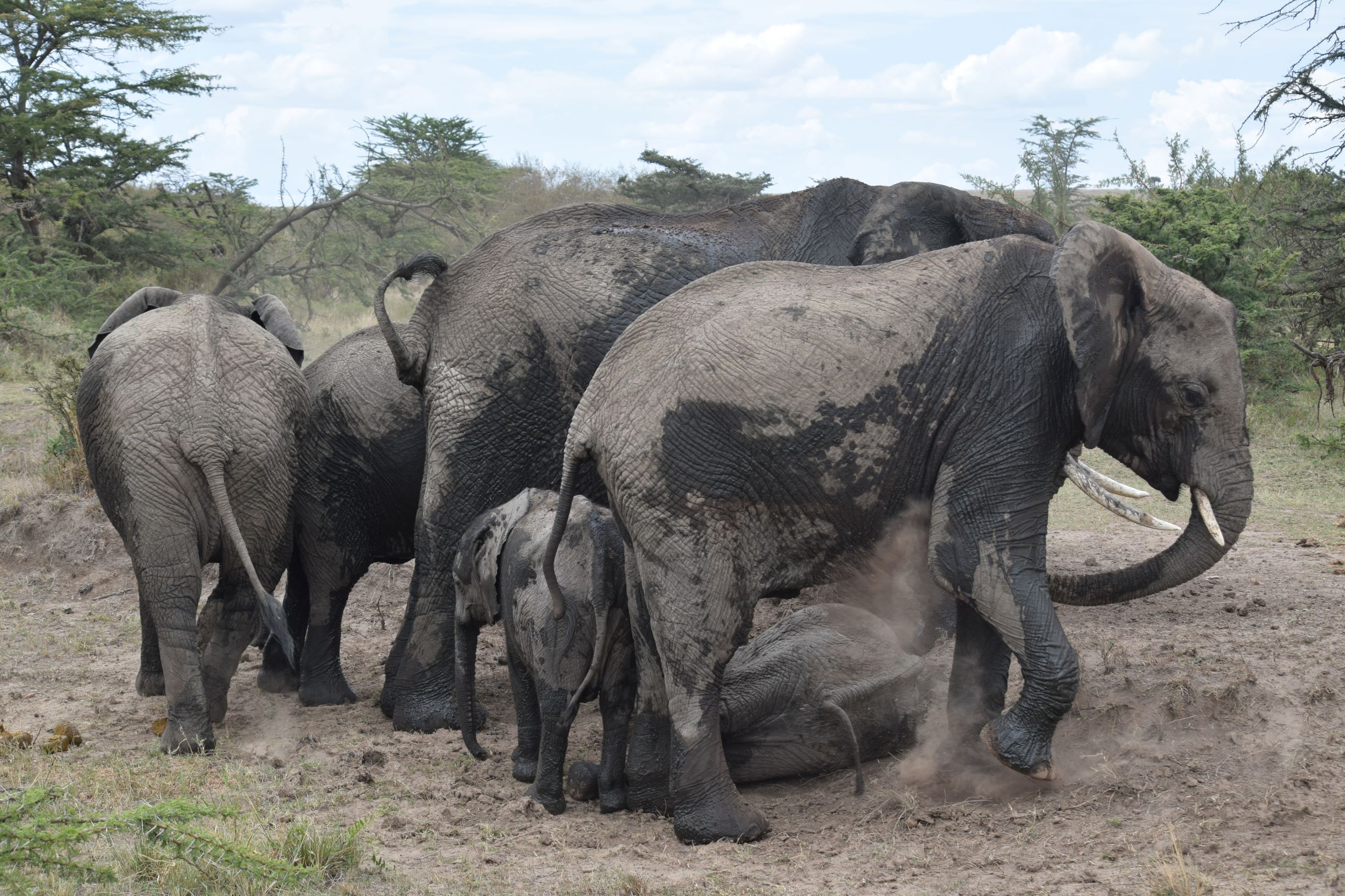 This is always the highlight of our Masai Mara Safari as we get to witness all wildlife species the park offers, our driver is skilled enough to track down most of the animals. With a bucket list of various wildlife species to see, we tick off one by one until we have seen every bit of the resident animals. Should your travel dates be from July to September, you should brace yourself to witness the Masai Mara Great Wildebeest Migration as it happens. We have a whole day to track the migration which is one of the most thrilling activities you can ever have on a safari.
Shooting animals in the Mara comes as part of this Masai Mara safari package we offer, ensure to this with a camera though!
You can check out our carefully designed Masai Mara packages and feel free to reach out for a free quote from our timely safari experts at your disposal. Our Kenya masai mara safaris are all-inclusive packages that cover the entire trip costs for you to have a seamless safari experience under the guidance of a professional team.
Masai Mara Kenya – The Park
Masai Mara National Reserve is undoubtedly the finest wildlife area in Kenya for seeing big game. Masai Mara Kenya is also the stage of the famous BBC Television show "The Big Cat Diary" following the lives of the big cats living in and around the reserve. Masai Mara National Reserve is famous for the Great Migration, which reputedly is one of the most impressive natural events in the world.
Unlike many reserves in Africa that are seasonal, game viewing here is in fact fabulous year-round. Restricted off-road game viewing is allowed, making it all the more attractive. All of the big game is here: elephant, lion (prides of up to 40 or more), leopard, cheetah, and buffalo are prevalent, along with a small population of black rhino. Other commonly sighted species include zebra, wildebeest, Thomson's gazelle, Defassa waterbuck, eland, and Maasai giraffe. This is the only place in Kenya where topi is common.
Maasai Mara Kenya, a northern extension of the Serengeti Plains (Tanzania), is located southwest of Nairobi and covers 590-square-miles (1,530km2) of open plains, acacia woodlands and riverine forest along the banks on the Mara and Talek Rivers, which are home for many hippo, crocs and waterfowl. Bordering the reserve, primarily to the north, are a number of conservancies — each with a number of camps and reserves. Most of the properties offer night game drives and escorted walks — activities not allowed in the Maasai Mara National Reserve itself.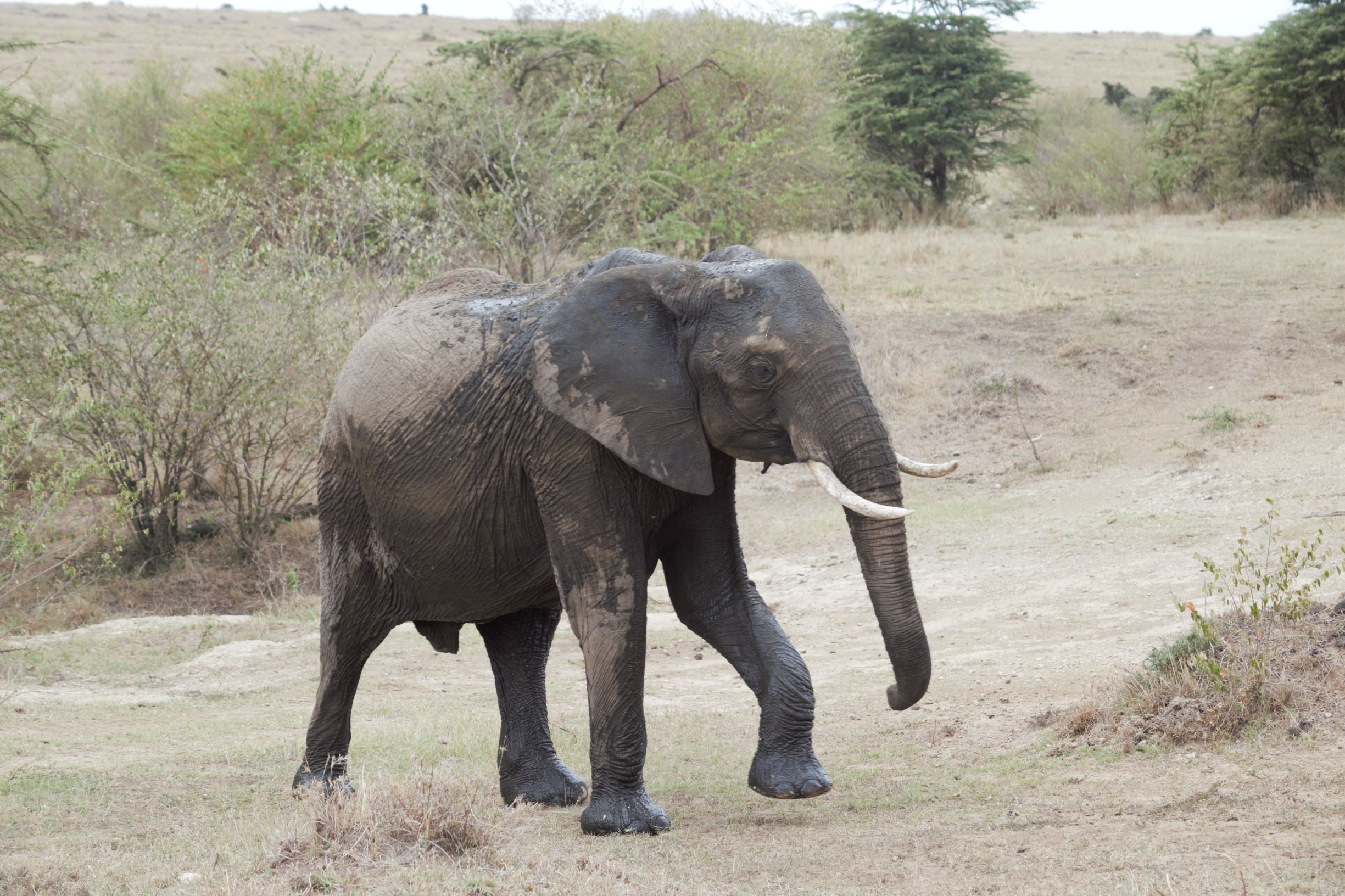 Some travelers choose to spend a few nights inside the reserve (especially for quicker access to possible wildebeest and zebra river crossings) and a few nights in a conservancy for the additional activities offered. An added bonus of most conservancies is that they are much less crowded than the Mara proper, as only guests of the camps on the conservancies are allowed to be on the respective properties. Leopards are successful hunters using their spotted coat as camouflage until they make their deadly pounce.
The Masai Mara National Reserve is bounded by the Siria (Esoit Oloololo) Escarpment rising about 1,000 feet (305 m) above the plains to the west, and by the Tanzanian border to the south. The western part of the Mara is less crowded than the eastern part of the reserve. Most adventurers visiting the camps in the western part of the reserve fly into the Mara, while most people visiting the lodges and camps in the eastern Mara are driven into the reserve. Lions are distributed throughout the park. Cheetah are most often seen on the short-grass plains. Black rhino are most concentrated in the Olmisigiyoi Region in the center of the park, in the northwest, and in the extreme eastern parts of the park.
The best time to see the migration is from approximately mid-July to early October when great herds of wildebeest (1.4 million) and zebra (250,000) reside in the Mara region and northern Tanzania before returning to Serengeti National Park.
This is ideally the best time of the year to visit the Mara. From the southern Serengeti of Tanzania, a major portion of the migration moves northwest toward Lake Victoria, then north across the Mara River into Kenya in search of grass, usually returning to Tanzania in late October or early November. The best time to witness large numbers of wildebeests and zebra crossing the Mara River is from late July to late October. As the park teems with resident wildlife, game viewing is good year-round. There is a real advantage in visiting Masai Mara Kenya from November to June as there are fewer travelers at that time. There are high chances you will see lions, cheetah, thousands of wildebeests and zebra, and the unforgettable experience of witnessing part of the migration crossing the Mara River!
Masai Mara Kenya is a paradise for birds and birdwatchers. Over 400 species have been recorded, with grassland and wetland birds especially well represented. Martial eagle, long-crested eagle and bateleur are common, while large numbers of vultures follow the great migration of wildebeest and zebra, feeding on the remains of those that die of exhaustion, old age or predator attacks.
The Mara River and some of its tributaries are forested along their banks, providing ideal habitat for exciting birds such as Ross's turaco, black-and-white-casqued hornbill, blue flycatcher and the Narina trogon. Balloon safaris are very popular and certainly a unique way of experiencing Africa. In fact, this has to be one of the very best places on earth for ballooning. The pilot was extremely entertaining as well as knowledgeable of the flora and fauna en-route. The champagne breakfast that followed was great fun for the entire group.