Amboseli safari tours take you to the second most popular park in Kenya after the Masai Mara, Amboseli National Park. The Park is well known mainly because of the highest number of elephant herds and the spectacular backdrop of Africa's highest peak, Mt Kilimanjaro, which broods over the southern boundary of the park. Cloud cover can render the mountain's massive bulk invisible for much of the day, but Amboseli day trips usually offer lucky encounters with clear skies where you can view the beautiful Mount Kilimanjaro.
Amboseli Safari Tours
Embark on the ultimate wildlife viewing adventure with a 6-day safari to some of Kenya's best national parks. Starting off…
View Details
This 9 days Masai Mara  and Serengeti  Safari Holiday explores a few of the best game parks in East Africa's…
View Details
This well-rounded and affordable wildlife adventure explores a combination of remote, scenic and world-famous game parks in Kenya. The 8…
View Details
Most successful views of the mountain while on Amboseli National Park Safari wildlife drives have been noted to be in the mornings. And the two lodges in the center of the park are perfectly placed for those classic early morning views. Amboseli National Park Safari tour can be organized from Nairobi and also from Mombasa, depending on your pickup location, safari can start any day and there is a safari to fit your budget.
Amboseli National Park is located 250km from Nairobi in southern Kenya and is known for its large elephant herds and views of immense Mount Kilimanjaro, across the border in Tanzania. Crowned by Mount Kilimanjaro, Africa's highest peak, the Amboseli National Parks is one of Kenya's most popular parks. The name "Amboseli" comes from a Maasai word meaning "salty dust", and the Park is one of the best places in Africa to view large herds of elephants up close. At 39,206 hectares, Amboseli is a small park and lacks the profusion of animal species found in the Masai Mara, but as the landscape provides limited cover for wildlife you have a good chance of seeing some of the larger predators. The vegetation here used to be much denser, but rising salinity, damage by elephants and safari vehicles have caused terrible erosion. Amboseli can turn into a real dustbowl in the dry season.
Amboseli National Park Wildlife
Buffaloes, lions, gazelles, cheetahs, wildebeests, hyenas, jackals, warthogs, zebras, Masai giraffes, and baboons are all present, but the last few black rhinos were moved to Tsavo West in 1995 after a sustained period of poaching. In the permanent swamps of Enkongo Narok and Olokenya, large elephant herds can be seen on Amboseli safari game drive grazing with Mt Kilimanjaro in the background. The park is majorly famous for being the best place in Africa to get close to these free-ranging elephants among other wildlife species. Other attractions to explore on your Kenya safari in Amboseli National Park include opportunities to meet the Maasai people and sightseeing opportunities of the spectacular views of Mount Kilimanjaro, the highest free-standing mountain in the world.
Amboseli Elephants
Amboseli is renowned for its large herds of free-ranging African elephants. There are over 900 African elephants in Amboseli, as well as huge herds of wildebeests and many other animals including giraffes, African lions, monkeys, zebras, hyenas, and antelope. Amboseli has an endless underground water supply filtered through thousands of feet of volcanic rock from Kilimanjaro's ice cap, which funnels into two clear water springs in the heart of the park.
Amboseli National Park Activities
Activities in Amboseli National Park include Game drives which offer you a close encounter with the wildlife the park has to offer. A typical Amboseli safari also takes you sightseeing at the renowned observation Hill ( Noomotio Hill). Here you are able to view the entire park. Birding also in-composes an Amboseli Safari tour, resident bird species include; Falcons, kingfisher, African jacana, lesser kestrel, kori bustards, flamingos among others. You can also enhance your Kenya safari Amboseli National Park with a hot air balloon experience, this offers you an option for exploring the park from an aerial point of view. The park also has Maasai local communities, these communities welcome visitors to share their culture, ways of leaving in a cultural tour which is worth adding to your Amboseli safari tour.
Best time to visit Amboseli safari 
The best time to visit Amboseli National Park Kenya is from June to October, during the country's dry season, which also coincides with the Great Migration of wildebeest and zebras in Masai Mara National Reserve (July to September). At this time of the year, you can combine the Amboseli safari with a visit to Masai Mara to explore the great migration. The rainy seasons are also good times to travel as there are fewer visitors and rates are lower to note more it is the only time you can admire the striking emerald vegetation of Amboseli National Park.
Amboseli National Park Safari Cost
Amboseli safari tour costs highly depend on accommodation options which lie anywhere between $125 and $1,500 per person per night. A budget safari averages $150 per night, mid-range $350, and luxury $750. The extreme top-safaris (super luxury) can easily go up to $1,500 per night or more! There is literally a safari to suit every budget.
Amboseli Safari Accommodation Lodges & Camps
All the listed accommodation options are top-notch highly recommendable lodges and camps for your Amboseli safari tour. Also, note that the listed lodge and camp options are located in or just outside Amboseli National Park
Amboseli Budget Lodges & Camps Options
Kibo Safari Camp
Amboseli Kibo tented camp is located within the Park and is located strategically at the foot of Mount Kilimanjaro which offers open clear views of the mountain on a good day with clear skies. Kibo Safari Camp also has a private wing (midrange) together comprising of 73 self-contained tents for single, double, triple, and family occupancy and a swimming pool. The Dinning area is the open terraced restaurant set under acacia trees overlooking Mount Kilimanjaro and likely any top-notch accommodation, special meal requirements are met upon request on booking.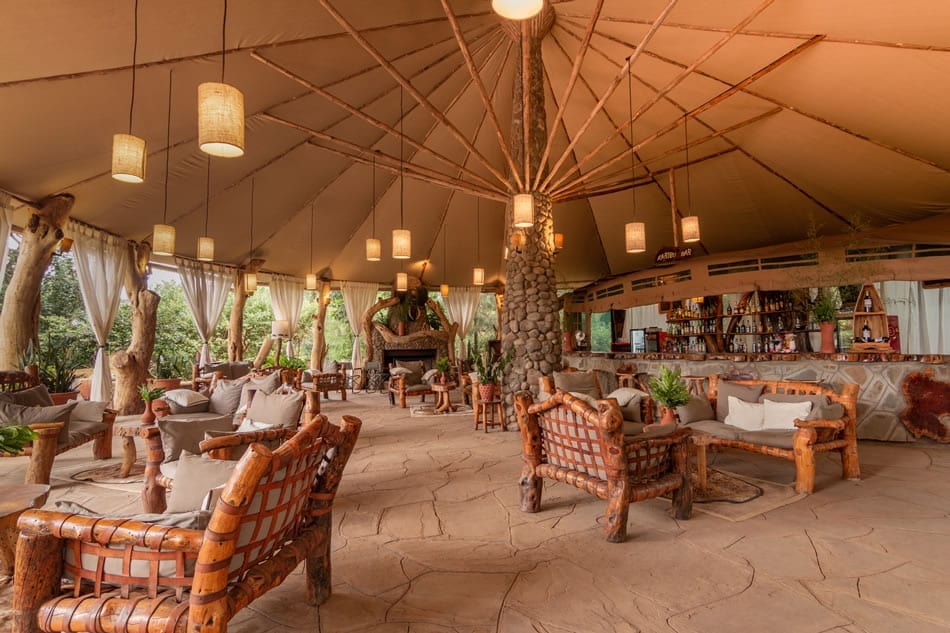 ---
Amboseli Midrange Lodges & Camps Options
AA Lodge Amboseli
AA Lodge Amboseli is located 2km from Amboseli National Park main gate (Kimana Gate) along the Emali – Loitoktok road. The Park also offers a panoramic view of snow-capped Mount Kilimanjaro on a good day with clear skies. The lodge comprises 83 lodge and camp rooms willing to accommodate single, double, triple, and family occupancy and a swimming pool.
---
Amboseli Sopa Lodge
Just outside the park boundaries, the Sopa is a friendly chain lodge offering spacious thatched accommodation in round orange clay huts. If you're heading out of Amboseli the Tsavo convoy convenes nearby, and it's a good spot to refuel. The lodge comprises 83 rooms, with 1 honeymoon suite, 6 interconnecting rooms & 2 wheel-accessible rooms. Facilities include; a bar, lounge, restaurant, outdoor dining terrace, swimming pool, and gift shop.
---
Amboseli Luxury Accommodation Options:
Amboseli Serena Safari Lodge
Posh Serena hotel in jungle-like gardens near the southern perimeter of the park. The low red adobe-style cottages make a change from the usual makuti, the very stylish lobby bar makes great use of hanging gourds and the nearby Enkongo Narok swamp ensures constant bird and animal activity. The lodge also offers clear views of Mount Kilimanjaro on a good day with clear skies. Facilities include; free-form swimming pool, gift shop, spacious interior bar and restaurant, and separate exterior campfire bar.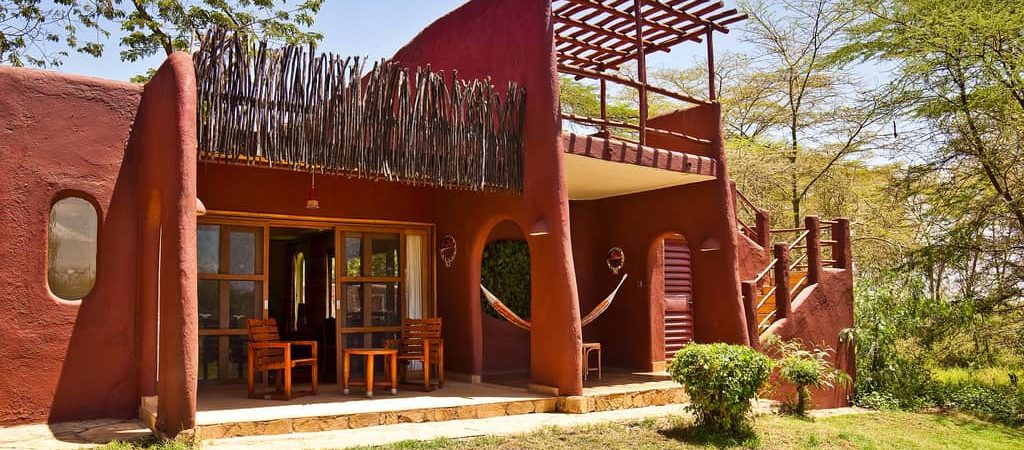 ---
Ol Tukai Lodge
This lodge belongs to the Block Hotels group. It's a splendid place, with soaring makuti (thatched palm-leaved) roofs and tranquil shaded gardens. The split-level bar has wonderful views and the overall atmosphere is of peace and luxury. Two of the attractive wooden cottages have wheelchair access.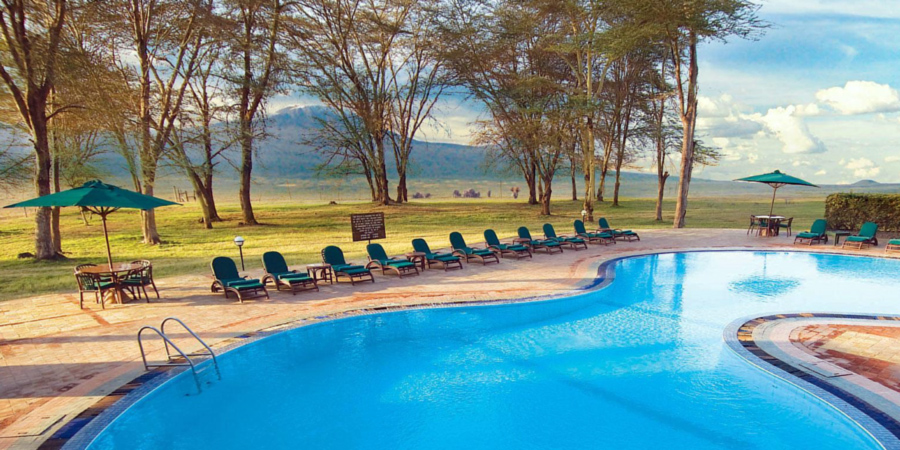 ---
Super Luxury Amboseli Lodge & Camp Option
Tortilis Camp 
This wonderfully conceived site is one of the most exclusive ecolodges in Kenya, commanding a superb elevated spot with perfect Kilimanjaro vistas. The name comes from the Acacia tortilis trees surrounding the luxury permanent tents. Food is cooked without firewood, solar power heats the water and there's a huge organic vegetable garden. The rather daunting prices could include transfers, wildlife drives, guided walks, cultural visits, laundry, and most drinks, but not park fees or fancy wine. During the 'premium' season (Christmas/New Year and August to mid-September) rates are known to rise.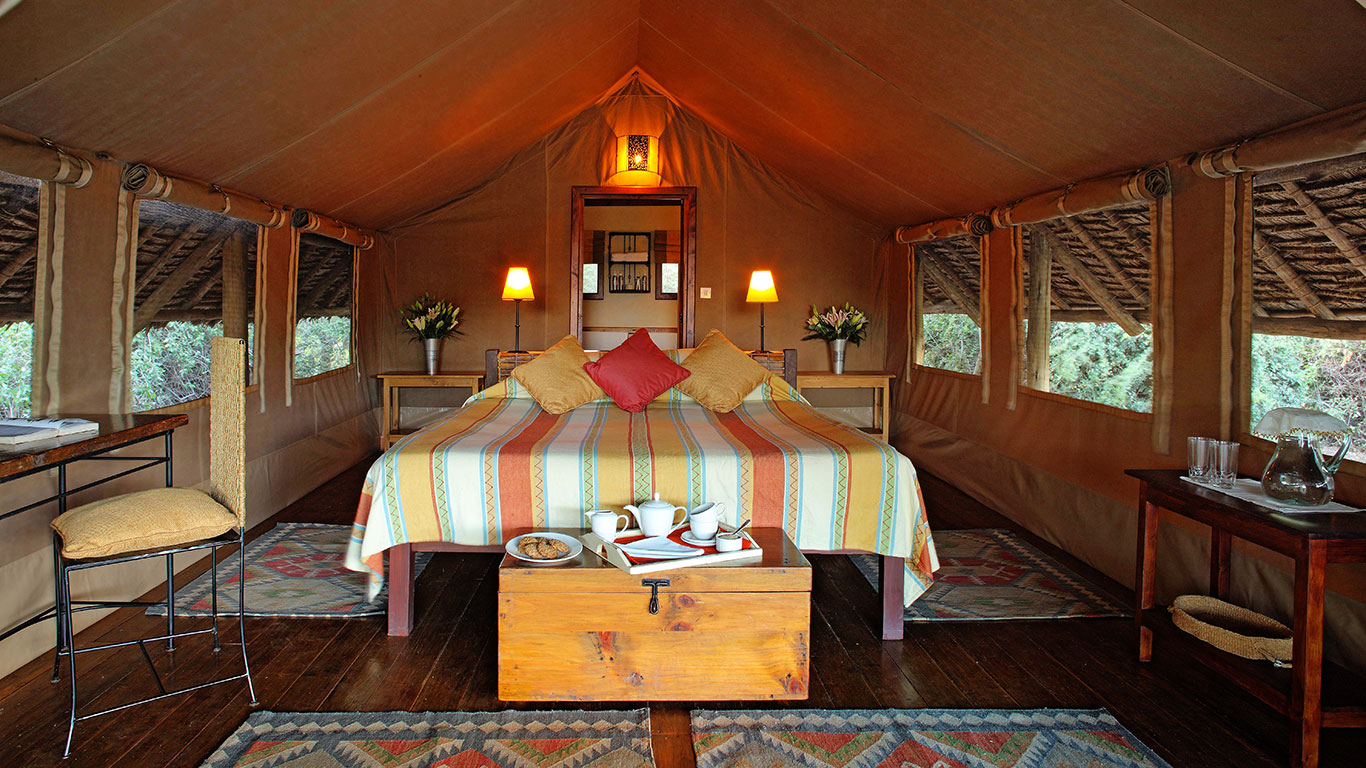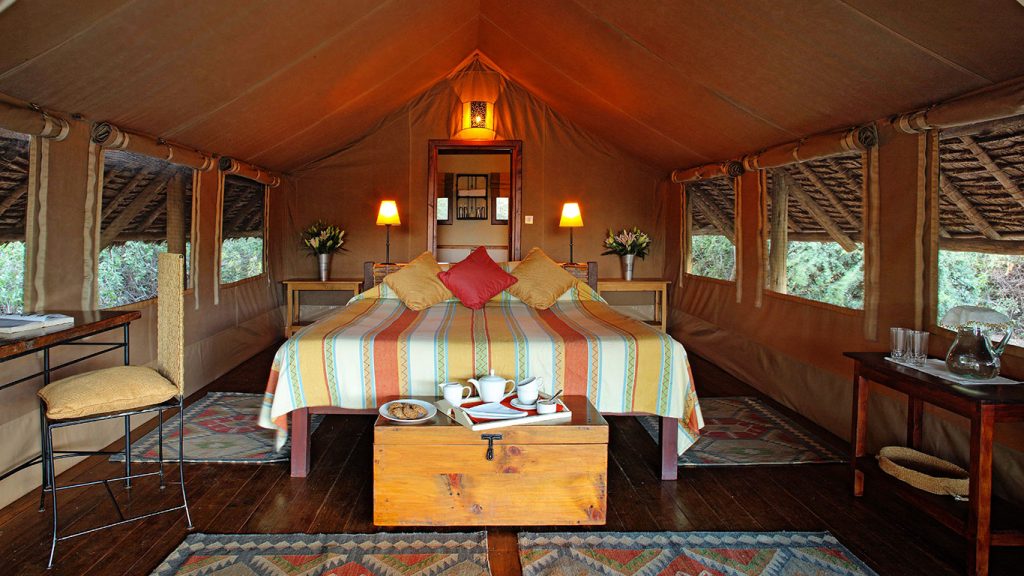 ---
How to get to Amboseli National Park
Amboseli National Park Kenya can be accessed Botha by road any air. Flights to Amboseli (1 hour), depart from Nairobi at 7.30 am. The return flight leaves Amboseli at 8.30 am.
By road, the usual approach to Amboseli is via Na- manga. The road is sealed and in surprisingly good condition from Nairobi to Namanga; the 75km dirt road to the Meshanani Gate is pretty rough but passable (allow around four hours from Nairobi). In the dry season, it's also possible to enter through Kitirua Gate, but this is a bumpy old road and it's hard to follow. The track branches right off the main Amboseli road after about 15km. Some people also enter from the east via the Amboseli–Tsavo West road, although this track is in a bad way and shouldn't be considered in a conventional vehicle.