Uganda also known as the Pearl of Africa is a land of pristine natural beauty and a tourist haven for many visitors from all across the world. Uganda Safaris and Tours offer some of Africa's finest geographical and natural beauty. The country is the Source of the mighty River Nile and home to one of the greatest concentrations of primates on the planet. Uganda Safari Adventures offer a true African game waiting to be discovered, Uganda African Safari brings you close to encounter the abundant wildlife that roams freely in the different Uganda Safari National Parks and Jungle Reserves. The many good reviews that have constantly followed Uganda Safari bookings clearly show that the country is a tourist paradise with world-class hotels, hospitable people, good climate and an abundance of wildlife which make a Uganda Safari experience one of the must do things for a safari in Africa.



Gorilla Trekking Safaris Tours & Holiday
Packages
Uganda Gorilla Safari tours & Holidays take you to Bwindi Impenetrable National Park to meet the endangered and elusive mountain gorillas. Uganda is one of the three counties; Congo and Rwanda that are blessed to have the remaining population of mountain gorillas in the world. There are approximately just 786 mountain gorillas remaining in the world with approximately half of them being witnesed on Uganda gorilla safari to Bwindi Impenetrable Forest and the adjoining Mgahinga Gorilla
---
Interestingly, these gorillas share 98% of their genetic composition with us humans. "Very relaxed, not disturbed and in their natural habitat. While on a Uganda Gorilla Trekking Safari, Only 8 people are allowed to see the gorillas in their natural habitat each day. Because their habitat is very fragile the number of visitors allowed into their habitat is strictly controlled. With Uganda owning up to half the remaining population of mountain gorillas, it makes the country nearly the best optiona for a gorilla trekking safari. The road network in Uganda is excellent to offer you an enjoyable experience as you travel passed small local villages and towns.
A gorilla trekking Safari experience starts with initial briefing, the trek up to the gorillas takes you through the impenetrable forest of Bwindi. Ensuring your fitness is checked you will have to make your way through this dense forest to reach the home of the endangered mountain gorillas. A team of experienced guides lead the trek together with porters and Park Rangers who guide the you through this rough terrain to navigate through the thick forest.
Coming face-to-face with these gentle primates while on a gorilla safari to Uganda is an experience one cannot forget. Contrary to their false reputation as the marauding apes, these are in fact very docile and easygoing animals often also known as the 'gentle giants'. You can't find these endangered mountain gorillas in any zoo as they cannot survive in captivity.
Uganda Best time for Safari
Uganda is an all year open Africa safari destination. Straddled by the equator, Uganda offers all kinds of traveler's safaris within a very conducive tropical climate. The best time to visit Uganda is in the dry season when the rains are less, grass is shorter and photography is clearer with best high peak season months being: January, February, June and July
---
---
---
Popular Uganda Safari Tours And Holiday
Packages
---
Wildlife & Nature; National Parks in Uganda
Uganda is a travelers haven for people from around the world and is home to some of Africa's tallest mountain ranges, Mountain Rwenzori or mountains in western Uganda on the border with the Democratic Republic of the Congo is a magnificient attraction to many tourist. Queen Elizabeth Park the most popular game park is set against the backdrop of these mountains and anyone enjoying a Uganda Safari adventure with game drives in this park would have scenic view from afar. The favored mountains of the Moon are world-class hiking and mountaineering destination.
The Rwenzori mountains are Africa's tallest mountain ranges exceeded in altitudes by mountain Kilimanjaro and Mount Kenya, this National Park is also called true heritage to the neighboring communities. What's more the park permits required for your Uganda Safari Holiday are less and half the price of those neighboring countries so you get more.
Uganda is a natural beauty with an abundance of gifts bestowed such as mountain Elgon, a volcanic caldera. Bwindi impenetrable forest located in south western Uganda is home to half of the planet's remaining population of mountain gorillas and it's one of the only three places where you can visit on a Gorilla Safari
Uganda Primates Safaris: Gorilla Trekking
Uganda is a hidden tourist haven't yet to be discovered, this makes the beautiful country an untouched destination for your Uganda safari itineraries to plan. Uganda is well known for having the highest concentration of primates in the world.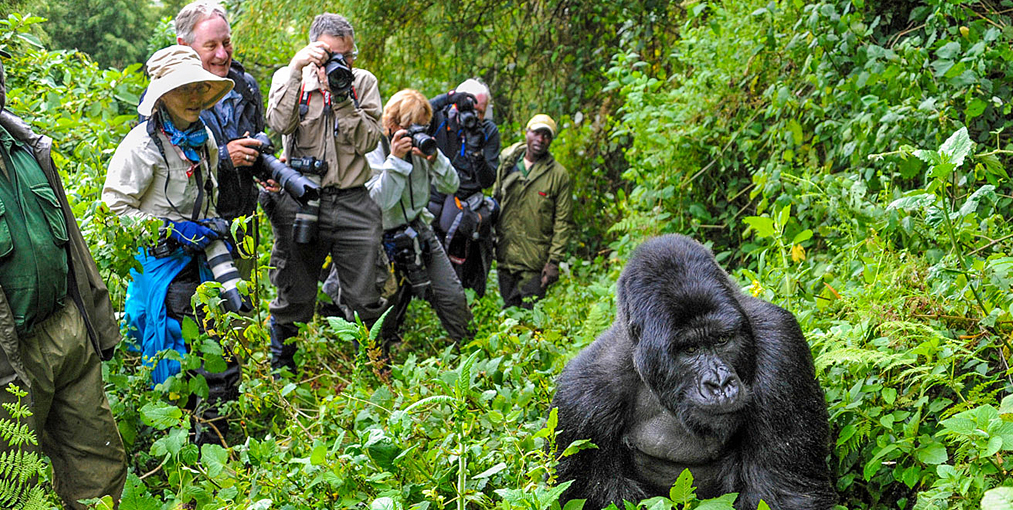 The major attraction being the mountain gorillas found in the thick Bwindi Impenetrable forest. Other primates families include the chimpanzees found in Kibale National Park and Budongo Forest. Further primates include the Columbus monkeys, rare golden monkeys and baboons
. Uganda Gorilla Safari tours have been reviewed by most travelers as a life changing memorable experience, the experience takes you for a trek into the jungle to trek the rare mountain gorillas. This species of gorilla you will not find anywhere else In the world and is different from the gorillas you witnessed before in zoos since these mountain gorillas do not survive in captivity
Uganda Safari Chimpanzee tracking
Chimpanzee Trekking is something that can be done in very few places in the world. Uganda is known to be the prime destination for primate Safaris in the entire world with Kibale National Park being the best for chimpanzee trekking within the region. Uganda Chimpanzee tracking Safari in Kibale is also takes you for birding and cultural villages walks through the Bigodi Swamp well known for having various bird species. However most travelers that visit chimps in Kibale National Park miss out on the most interesting social behavior of these primates dues to limited time, if you can afford paying a habituation experience which offers you more time with the chimps we recommend you could go for it.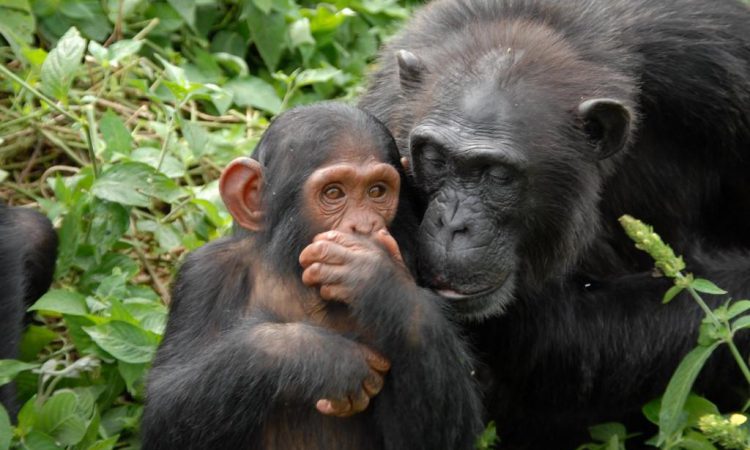 Chimpanzee trekking in Uganda can also be done in Queen Elizabeth National Park, are you looking for a wild Uganda Safari? Queen Elizabeth should be an option. The Savannah like National Park consists of a forest section towards Kyambura Gorge where Chimpanzees can be trekked.

Queen Elizabeth also consists of other major highlights such as the boat rides along the Kazinga channels and the tree climbing lions.ion,a Comparing the two alternatives, chimpanzee trekking trekking in Queen Elizabeth National Park is cheaper compared to Kibale since chimp permits in queen Elizabeth are relatively cheaper compared to Queen Elizabeth National Park.
Queen Elizabeth National Park
Another major land mark for your Uganda Safari booking is the Queen Elizabeth National Park located in southwestern Uganda. With its topography of abundant breathtaking patterned rolling hills with narrow valleys, the park derives it's name from the Queen of England, Queen Elizabeth the second.
At 1978 square kilometres the fertile equatorial area is Made up tropical rain forests, lash Savanna Grasslands and two lakes. The beauty to explore while on Uganda African Safari to the park is simply indescribable with extensive Savannah Forest, rivers, and Lakes, the park is one of the very few remaining wildlife sanctuaries in the world.
The maramagamo Forest walks, as well as the views on The Splendid kazinga channel with its natural zoo what is teeming with hippopotami are sight for sore eyes while on a Uganda African Safari. This 32 kilometre channel links lake Edward and lake George and is has a varied range of wildlife and birds with the wild largest concentration of hippos and numerous crocodiles. Ishasha sector of the famous Queen Elizabeth National Park which is home to over 612 species of birds, buffaloes, elephants and hippos as well as the famous tree climbing Lions of Ishasha. It is somewhat uncommon for lions to climb trees. There are no more than two populations in the whole world of such lions that climb trees. One of these populations is found within the Ishasha sector and the other population is found in Lake Manyara National Park in Tanzania. Driving through the Ishasha sector of the Queen Elizabeth National Park on a Uganda Safari Tour is an experience that will surely rejuvenate your senses.
Murchison Falls National Park
Named for the roaring mighty water falls that cough right through the middle the woods of the Murchison Falls National Park. The Park is actually the largest National park in the Uganda with a whopping account of nearly 4,000 square kilometers between its borders.
The biggest attraction is the point where Victoria Nile crashes through a tight-knit Gorge and over an escapement of more than 40 meters in height. However travelers can also look forward to game viewing which enhanced with a boat cruise to the bottom of the Murchison falls or to the delta point
of Lake Albert, both cruises offer you a game viewing experience and a perfect bird watching encounter respectively. The Park is blessed with various wildlife species to include; the big five, over 450 species of birds and chimpanzees at Budongo Forest Reserve.
Lake Mburo National Park
Lake Mburo National Park in western Uganda is a wildlife haven with about 300 species of birds and the range of wildlife to include; impalas, buffaloes and zebras.
Despite being one of the smallest national parks in Uganda, the savanna grasses and rocky habitats terrains come with buffalo herds, zebras crossed by waterbucks and stocked with hyenas.
Today much of the area is covered in young forestry which springs up the swampland that dominates along the shores of Lake Mburo. The Park is great for game viewing during the dry season when most of the wildlife congregate around the lake. Lake Mburo National Park is one of the most accessible going with easy access along the highway from Kampala the capital. It is an ideal destination for game viewing burden sport fishing, boat rides, horse back riding and hiking



Lake Bunyonyi
The beautiful views of Lake Bunyonyi located in the district of Kabale in southwest Uganda is also a major highlight on a Uganda Safari Holiday Package. The calm waters of the lake reflect the verdant hills around it. This picturesque Lake Bunyonyi is one of famous tourist spots in Uganda and it is a perfect getaway for a relaxation experience while on a safari tour to Uganda.
Much of the shoreline around the lake and swaths of the larger of the 29 Islands have been converted to subsistence farming. While this has no doubt robbed the lake of the deep green beauty of Uganda's natural vegetation the snaking course of the water's edge and the rolling hills that overlook it are still undeniably stunning.
Lake Bunyonyi is one of the safest lakes in Africa. It has no hippos or crocodiles and is a perfect place for a splash in the water. A number of budget and luxury accommodation options are available around Lake Bunyonyi and in the nearby Kabale town to enhance your Uganda Safari Adventure. Whether you're on your way to visit the mountain gorillas in the Bwindi Forest National Park or in Rwanda, Lake Bunyonyi is an ideal choice for a stopover.
Entebbe Town
Another landmark to watch out for on a Uganda Safari Tours or Day Trips is Entebbe Town, this resort town is famous for all it's beaches and wildlife. The Uganda wildlife center is here, and it provides information to about different animals which include Lions crocodiles Eagles as well as snakes. Within the radius of Entebbe is Kalangala Island, a top notch resort Island for beach relaxation, honey moons which can be prepared with a visit to the chimpanzee of Ngamba Island of Lake Victoria.
Jinja town: East Africa's Adventure City
Jinja Town in Uganda is also known as East Africa's Adventure city, while on your Uganda Safari Adventure, you will explore attractions such as lake Victioria, the source of the Nile, Mighty Itanda Falls and Mabira Forest in Jinja.
Uganda holds the 2nd largest fresh water lake in Africa, lake Victoria, which is also the source of the mighty River Nile in Jinja as it begins at 6000 km Journey to the Mediterranean Sea. Other Uganda Safari attractions in Jinja include the stunningly beautiful Itanda Falls an ideal spot for white water rafting. Bungee jumping is another blood pumping sport, this 44mm plunge into the source of the Nile is simply awesome jet boating and river surfing also take these here. While in Jinja there is also a chance to visit Mabira Forest, nature's 7th heaven and true African tropical jungle home to many plants and animal species.
Fort Portal Town
Located in western Uganda, Fort Portal is another town the Holiday Destination for a Safari to Uganda. The beautiful little town has an old-world charm and boasts of some excellent hotels like the Mountain of the Moon where we stayed for the night. Here you can visit the Chimpanzees in Kibale National Park, the famous waterfalls and caves at Amabeere Ga Nyina Mwiru in Kabarole district. Located 10 kilometers from Fort Portal. The area the waterfalls are located in is a beautiful spot with open spaces set in typical African rural settings. You walk through a jungle path up to the waterfall. The scenic beauty around the cave is food for the soul. Nature walks to the nearby Crater Lakes can also be arranged by your guide.
Uganda the Pearl of Africa: Brief History
The pearl of Africa located at the edge of the equator on the Eastern side of the African continent nestling between the two arms of a Great Rift Valley. landlocked Uganda derives her surname from the Buganda kingdom which was formed by the British in the year 1890. Uganda gained independence from the British on the 9th of October 1962, the period since then was remarked by violent conflicts including an eighth year long military dictatorship led by Idi Amin Dada additionally a leftist civil war against the National Resistance Army in the northern region led by Joseph Kony which caused hundreds of thousands of casualties. The official languages are English and Swahili although any other language may be used as a medium of instruction in schools,other educational institutions, legislative administrative or judicial purposes as may be prescribed by law. Luganda, the central language is widely spoken across the country but several other languages are also spoken considering Uganda is made up of 42 tribes and each time has a different language. Since independence Uganda has Hard 8 presidents including Kabaka Muteesa the second ,Dr Milton obote , the first, general. Idi Amin Dada, Yusuf lule, Godfrey Binaisa, Paul Muwanga, Tito lutwa. The current President of Uganda is Yoweri Kaguta Museveni who came to power in January 1986 after a protracted six-year career award following constitutional amendments that removed term limits for the president who was able to stand an all selected President of Uganda in the 2011 and in the 2016 general elections. Uganda's capital, Kampala is a big commercial city for nearly all Eastern central Africa it is a hub of activity as people with in and out of the modern City buildings that have increasingly sprang up as a result of the rising economic growth and economic stability. Also originally known as the city of seven hills, it commands great views and tremendous beauty and is home to several examples 45 star hotels thus guaranteeing five star accommodation facilities to visiting tourists. When many people think of Uganda as a country with a lot of instability and civil unrest but the fact is what should come to your mind is a beautiful country that should be on your bucket list of countries to visit if it isn't but if your mind is not yet made up, here are 3 reasons why you absolutely need to visit on a safari Holiday to Uganda:
Food in Uganda
Adventure with your taste buds on a Uganda African safari with the country's reach cuisine, Uganda's food is as sweet as its culture because its tripods on staple food or propaganda meal. Food in Uganda is a celebration in itself and some meals are prepared as early as a day before to be served at launch the following day
There is also the street food; the most notably being the Rolex. A Rolex is a timepiece in most countries, in Uganda it's a popular street food that can be eaten any time of the day, it's an omelet that is rolled with a chapati and some onions and tomatoes bonus points in the tomatoes are raw and you eat it by the stall. Tourism is still very much in its infancy in Uganda so you don't need to worry about large crowds of fellow tourists ruining your experience of eating along streets while on a safari to Uganda or in an exclusive countryside on your Uganda safari Holiday. Another staple food you will enjoy on Uganda safari Tours is motooke or cooked bananas other food crops to include; cassava, sweet potatoes, irish potatoes, yams, beans, Cow peas, ground nuts, cabbage, onions, pumpkins and tomatoes. Some fruits to include; oranges, Pawpaws, lemons and pineapples are also grown, this is an indication of the rich nature of the full variety in Uganda which are prepared in various ways to satisfy different palates depending on your culture and preferences whether you are fully or not.
Friendly Welcoming People of Uganda
Every traveler knows how the attitude of local people can infest the experience when visiting a new country, when going somewhere new we want to learn about with new cultures we want to connect with. People whose lives are so different but somehow so similar to yours, the people in Uganda make this so possible as they are friendly, open and curious with a great sense of humor, they welcome every stranger in their midst and wave as you pass by to let you know you can feel at home with them. The people of Uganda actually love their country and are proud that travelers from all around the world visit on Uganda Safaris and Tours to visit the mountain gorillas and experience their cultures.