Safari holidays Uganda offer a true African game waiting to be discovered, there is no such thing as a crowd even in the most popular parks in the country. Uganda safaris and excursions unfold clear proof of Winston Churchill's words when he called Uganda "the pearl of Africa". wildlife tours in Uganda offer close encounters with abundant wildlife that roams freely in the different Uganda Safari National Parks and Jungle Reserves. The many good reviews that have constantly followed Uganda tours clearly show that the country is a tourist paradise with world-class hotels, hospitable people, a good climate, and an abundance of wildlife.
Popular Uganda Safari Tours
Discover the best Uganda safaris with Masai Mara Holidays (Ltd), we are a local based tour company in East Africa organizing adventure safaris throughout Uganda and the larger Eastern Africa. We take pride in crafting unmatched Uganda Safaris holidays, Kenya Safaris, Tanzania Safaris, and Rwanda safaris with priority given to our visitor's interests, time frame, and budget backed up with the best travel tips and advice from our knowledgeable travel experts.
Uganda Safari Highlights
Uganda is Africa condensed, with the best of everything the continent has to offer packed into one unique and beautiful destination. Uganda Safari vacations offer some of Africa's finest geographical and natural beauty taking you home to; one of the highest concentrations of primates in the world, including half of the remaining mountain gorillas roaming freely in Uganda's Bwindi Impenetrable Forest and Mgahinga National Park. Source to the mighty River Nile, the world's longest river, surges out of Lake Victoria, Africa's largest lake. Uganda is also arguably one of the best bird-watching destinations in the world with about 1066 bird species.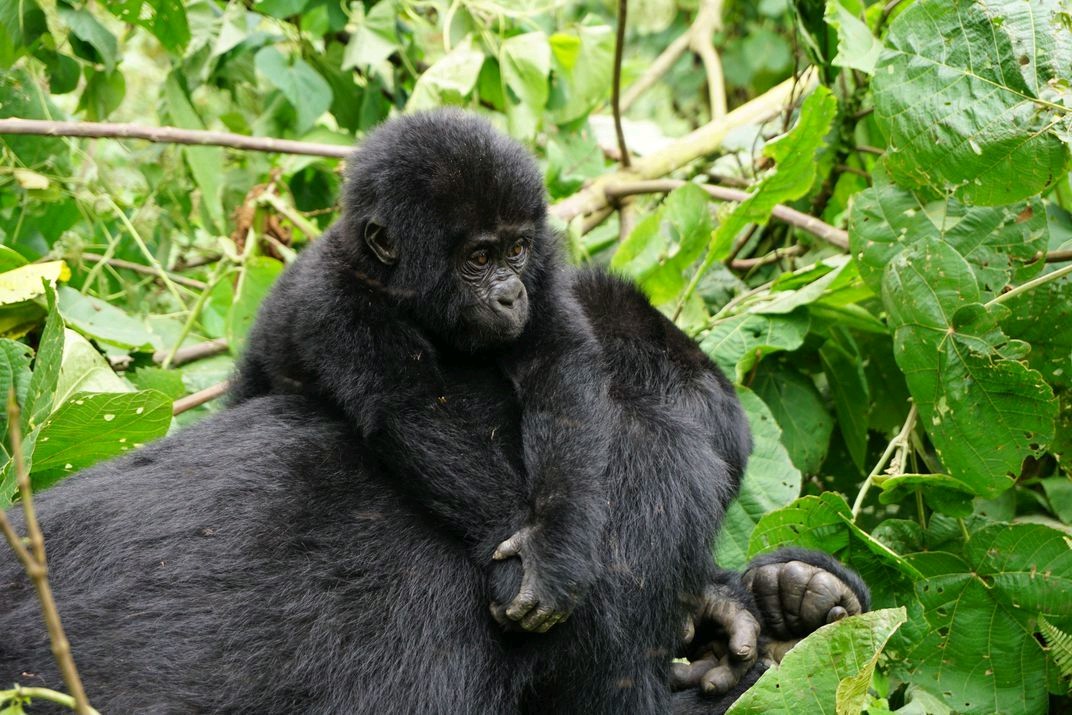 Mountain Gorillas
Uganda Gorillas tours remain the greatest international attraction, and there is nothing comparable to the thrill of a close encounter with these magnificent, peaceful apes, in their native environment. Gorilla trekking is so popular that we suggest you book your safari 6 months to a year or so in advance if possible, as permits are limited. Uganda Gorilla Safaris have been reviewed by most travelers as a life-changing memorable experience. This species of gorilla you will not find anywhere else In the world and is different from the gorillas you witnessed before in zoos since these mountain gorillas do not survive in captivity
Best Uganda Gorilla Safaris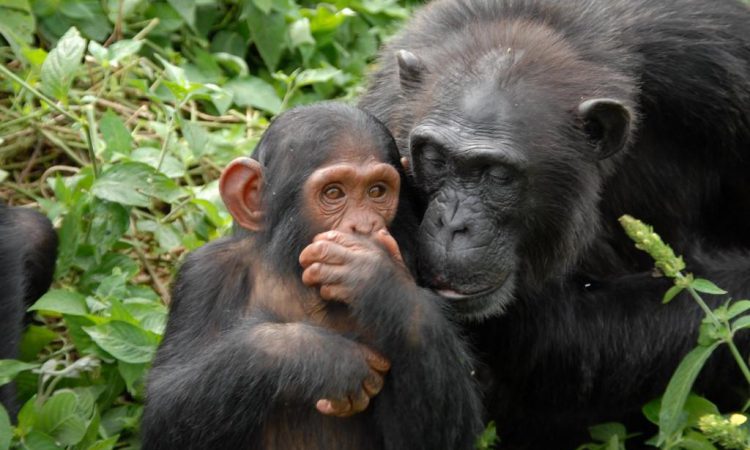 Chimpanzee Trekking
Chimpanzee Trekking is something that can be done in very few places in the world. Uganda is known to be the prime destination for primate Safaris in the entire world with Kibale National Park being the best for chimpanzee trekking within the region. Uganda wildlife tours to Kibale also offers excellent birding and cultural experiences with a visit through the Bigodi Swamp well known for having various bird species. Chimpanzee trekking in Uganda can also be done in Queen Elizabeth National Park, are you looking for a wild Uganda Safari? Queen Elizabeth should be an option. The Savannah-like National Park consists of a forest section towards Kyambura Gorge where Chimpanzees trekking is possible.
Adventure
Uganda adventure safaris encompass hiking, white water rafting and trekking, the country has a strong attraction among the dedicated trekking fraternity which mainly for the opportunity presented by Rwenzori mountains located in southwestern Uganda and Mount Elgon in the East. Both these mountains are gorgeous add-one for Uganda hiking tours and are also noted to have fewer climbers than Mt. Kilimanjaro and Mt. Kenya. The Rwenzori Mountains also known as "mountains of the moon" offer one of the most challenging hikes in Africa and a chance for genuine climbing if you attempt one of the peaks. However, Mt. Elgon is a more affordable option. It's also possible to walk up the three volcanoes at Mgahinga Gorilla National Park.
Popular Uganda Adventure Safaris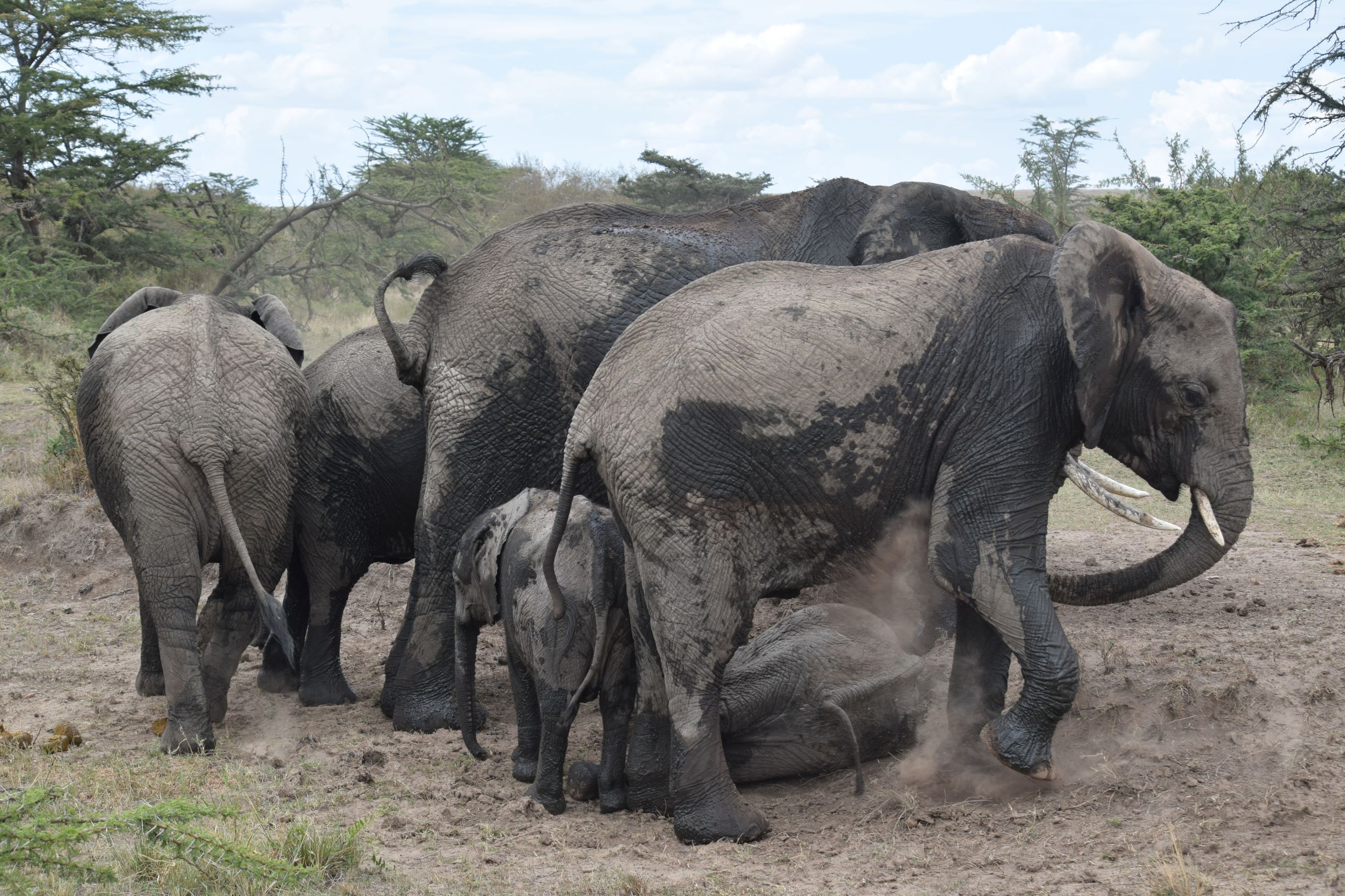 Game Viewing
Uganda tours offer some of the best wildlife viewing opportunities to catch a glimpse at the big five and other distinct wildlife species for instance elephants, lions including the rare tree-climbing lions, leopards, buffaloes, rhinos, impalas, topis, warthogs, birds, hippos, crocodiles and many more. This various game is best explored on Uganda tours while on the game drive either in the morning or afternoon. Alternatively, a boat cruise is perfect for clear views over hippos, crocodiles, and many waterbird species. The best places for the best Uganda safaris wildlife featuring viewing opportunities include Murchison Falls National Park, Kidepo Valley National Park, Lake Mburo National Park and Queen Elizabeth National Park
Birding
Uganda Safari vacations offer some of the world's best-birding opportunities with over 1041 bird species which is almost half the total number found in Africa. Safari in Uganda indirectly covers birding for non-bird watchers as they are often enthralled by the diversity of the beauty among Uganda Wildlife. Uganda's unique geographical location placed where, eastern, northern, western, and southern ranges merge, allows visitors to view the 24 Albertine Rift Valley endemics. Relative to its size, Uganda is the richest country for birds in Africa, with over 1,000 species in an area the size of Great Britain. A wealth of hornbills, turacos, barbets, sunbirds, kingfishers, weavers, and storks are present, as well as the bizarre and much sought-after shoebill.
Uganda Best time for Safari 
Uganda trips are favorable all year round with temperatures in the country averaging 26°C during the day and 15°C at night. Straddled by the equator, Uganda offers all kinds of traveler's safaris within a very conducive tropical climate.
However, the best time for a Uganda safari tour is in the dry season when the rains are less, the grass is shorter and photography is clearer with the best high peak season and hottest months being: January and February, and June to September nevertheless, Safari holidays Uganda in the wet season are also possible although it is a bit slower and you may probably not enjoy the outdoor activities as much due to the rains.
Uganda Safari Destinations
Uganda's tremendous diversity of wildlife is due to its situation at the junction of the East African savannahs, the West African rainforests and the semi-Arid Saharan zone of North Africa. Uganda safari vacation can potentially take you to 10 national parks and 15 wildlife reserves, but most are smaller than those in Tanzania or Kenya. Clever planning of the parks and reserves has, however, resulted in most of the different habitats being conserved, enabling visitors to enjoy a wide variety of wildlife and nature experiences.
Primates, including gorillas, large numbers of chimpanzees and an array of smaller monkeys are a major attraction. This is the best single country to visit for both chimpanzee (Kibale Forest National Park) and gorilla trekking (Bwindi Impenetrable Forest National Park). The endemic Uganda kob (a beautiful antelope), as well as lion, leopard, elephant and giraffe inhabit the savannahs while the great wetlands are home to large numbers of hippo and crocodile. 
Bwindi Impenetrable Forest National Park
The major attraction of the 127-square-mile (330-km2) Bwindi Impenetrable Forest are the Uganda gorilla safaris taking you on a journey to visit the remaining population of over 300 gorillas known to inhabit the park, that are in fact a different sub-species (yet to be named) from the mountain gorillas of Rwanda.
Bwindi is a forest of enormous hardwood trees, giant ferns, tangled undergrowth and hanging vines — the quintessential equatorial jungle. The size and altitudinal range of montane and lowland forests at Bwindi support more species of trees, ferns, birds and butterflies than any other forest in East Africa. It is also the only one inhabited by both chimpanzees and gorillas.
As of this writing, there are 5 groups that may open for Uganda gorilla tours that are visited by up to 8 tourists per day that are accessed by accommodations in Buhoma in the northern part of the park, and 4 from the southern (Kisoro) side of the park. And as of this writing, the group makeups were as follows — but keep in mind that changes occur on a regular basis. Uganda is one of the three countries; Congo and Rwanda that are blessed to have the remaining population of mountain gorillas in the world.
There are approximately just 786 mountain gorillas remaining in the world with approximately half of them open to Uganda gorilla safaris to Bwindi Impenetrable Forest. With Uganda owning up to half the remaining population of mountain gorillas, it makes the country arguably the best option for a gorilla trekking safari. The road network in Uganda is excellent to offer you an enjoyable experience as you travel past small local villages and towns.
Uganda Safari holidays to Bwindi start with an initial briefing, the trek up to the gorillas takes you through the impenetrable forest of Bwindi. Ensuring your fitness is checked you will have to make your way through this dense forest to reach the home of the endangered mountain gorillas. A team of experienced guides leads the trek together with porters and Park Rangers who guide you through this rough terrain to navigate through the thick forest. Interestingly, these gorillas share 98% of their genetic composition with us humans. "Very relaxed, not disturbed and in their natural habitat.
Booking Uganda safaris and excursions to come  face-to-face with these gentle primates is an experience one cannot forget. Contrary to their false reputation as the marauding apes, these are in fact very docile and easygoing animals often also known as the gentle giants. You can't find these endangered mountain gorillas in any zoo as they cannot survive in captivity
Mgahinga National Park
Mgahinga Gorilla National Park is situated on the slopes of Mt. Muhabura and Mt. Gahinga in the southwestern corner of Uganda, bordering Rwanda and the D.R. Congo. A joint commission has been set up by Uganda, Rwanda and the Congo to protect the mountain gorilla in the Virunga Mountains where the borders of the three countries meet.
One gorilla group has been habituated for Uganda wildlife tours, however, as its natural range lies across political borders, gorilla viewing at Mgahinga cannot be guaranteed by any means, and therefore the reserve is not recommended for international travelers with limited time.
While Uganda gorilla safaris is the main activity in this 12-square-mile (34-km2) reserve, other mammals such as the rare golden monkey (a sub-species of the blue monkey), buffalo, black-fronted duiker, leopard, golden cat and serval may be encountered. Bird life is not prolific, however, gems such as the red-tufted malachite sunbird, white-starred robin and Ruwenzori turaco may be observed in this highland region.
Lake Bunyonyi
The beautiful views of Lake Bunyonyi located in the district of Kabale in southwest Uganda is also a major highlight of a Uganda trip. The calm waters of the lake reflect the verdant hills around it. This picturesque Lake Bunyonyi is one of the famous tourist spots in Uganda and it is a perfect getaway for a relaxation experience after your Uganda safari vacation to western Uganda.
Much of the shoreline around the lake and swaths of the larger of the 29 Islands have been converted to subsistence farming. While this has no doubt robbed the lake of the deep green beauty of Uganda's natural vegetation the snaking course of the water's edge and the rolling hills that overlook it are still undeniably stunning.
Lake Bunyonyi is one of the safest lakes in Africa. It has no hippos or crocodiles and is a perfect place for a splash in the water. A number of budget and luxury accommodation options are available around Lake Bunyonyi for overnighting on your Uganda safari holiday.  Whether you're on your way for Uganda gorilla tours to Bwindi Forest National Park or in Rwanda, Lake Bunyonyi is an ideal choice for a stopover
Lake Mburo National Park

 
Lake Mburo National Park is located in southwestern Uganda between Masaka and Mbarara. This approximately 200-square-mile (520-km2) park is named after the largest of the park's 14 lakes. Located in the rain shadow between Lake Victoria and the Ruwenzori Mountains, the park is characterized by open plains in the north, acacia grassland in the center and lakes and marshes in the south.
It is bounded by the Kampala- Mbarara road on the north, Lake Kachera on the east and the Ruizi River on the west. Herds of zebra, impala (found nowhere else in Uganda) and buffalo enjoy are to be witness on a Uganda safari here, and the wetland system around the lake is home to the aquatic sitatunga antelope and hippo. Other game to be seen on your wildlife tour in Uganda to this park include leopard, eland, reedbuck, topi, bushbuck and klipspringer.
Birds more typical of dryer Tanzanian savannah such as emerald-spotted dove and bare-faced go-away bird occur alongside the lilac-breasted roller and pennant-winged nightjar. The lake's edge is busy with the feeding activities of herons, storks, cormorants, ducks and pelicans. The park offers gamedrives, cycling safaris, horse back safaris, bush walks and boating on the lake, and is a good place to overnight when driving between Bwindi and Kampala.
Kampala and Entebbe
Kampala, the capital of Uganda and also the ase for all Uganda trips, is built on seven hills. Points of interest include the Uganda Museum and the Kasubi Tombs of the Kabakas, a shrine to the former Baganda kings and a fine example of Baganda craftsmanship. The international airport is at Entebbe, about an hour's drive from Kampala. This resort town is famous for all its beaches and wildlife.
The Uganda wildlife center is here, and it provides information about different animals which include Lions crocodiles Eagles as well as snakes. Within the radius of Entebbe is Kalangala Island, a top-notch resort Island for beach relaxation, honeymoons which can be prepared with a visit to the chimpanzee of Ngamba Island of Lake Victoria.
There are several hotels located near the shores of Lake Victoria and the botanical gardens. For Uganda adventure safaris seekers wanting a close encounter with the mighty River Nile, enthralling white-water rafting adventures operate from near the town of Jinja, east of Kampala.
Ngamba Island Chimpanzee Sanctuary
Ngamba Island Chimpanzee Sanctuary is situated in Lake Victoria, 90 minutes by boat transfer from Entebbe Pier. The tropical 100-acre (40-hectare) island is home to approximately 42 orphaned chimpanzees, which are free to roam the forest during the day and return to the holding facility at night. Chimpanzee viewing is the main activity.
If you are to combine a Uganda safari holiday with a visit to these chimps; There are 2 daily viewing times during which you can watch the chimps being fed. A raised viewing platform allows you to view the chimps very closely and provides great photographic opportunities. Day visits and overnight stays are allowed but must be booked in advance. Overnight stays require a long list of vaccinations before arrival. Swimming, kayaking, bird watching, sunset cruises and fishing are other optional activities. The Chimpanzee Sanctuary is managed by the Jane Goodall Institute.
Kidepo Valley National Park
Kidepo Valley National Park Isolated from the Ugandan mainstream by the harsh plains to the north of Mount Elgon, Kidepo Valley National Park is Uganda's second-largest national park. Kidepo is one of Africa's last great wilderness areas, a tract of rugged savannah dominated by Mt. Morungole and transected by the Kidepo and Narus Rivers. Perennial running water in the Narus River makes Kidepo an oasis in this semi desert.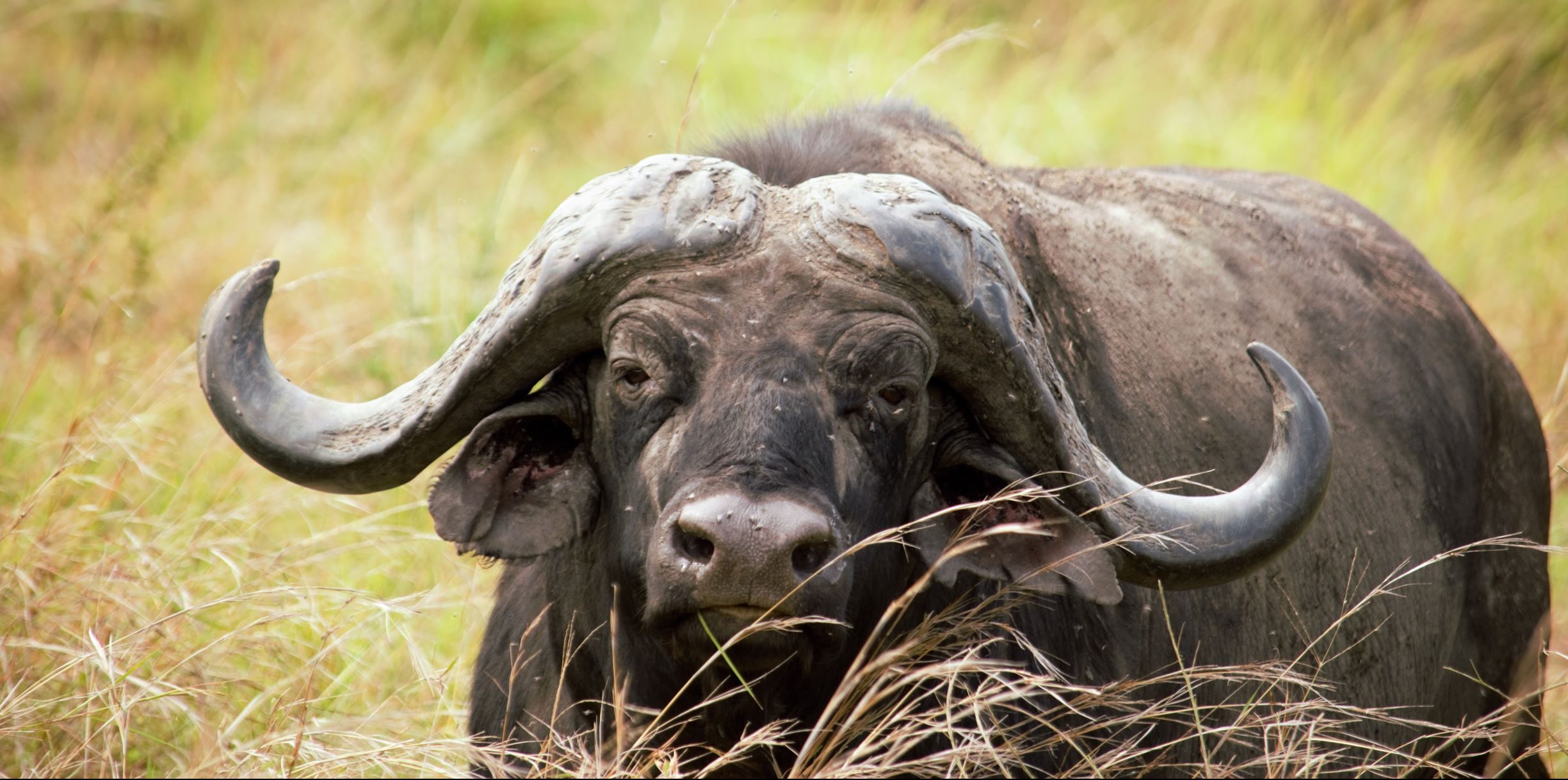 While wildlife tours to Uganda here offer excellent game viewing, it is the sense of supreme isolation that distinguishes this rare slice of wild Africa and yet undiscovered by the mass safari market. Wildlife includes elephant, giraffe, buffalo, lion, cheetah, ostrich, Jackson's hartebeest, waterbuck, zebra, Guenther's dikdik, kudu, lesser kudu, eland, aardwolf, bat-eared fox and Patas monkeys.
Occasionally African wild dogs are spotted near Kanantarok Hot Springs close to the border of Sudan. Game viewing on wildlife tours in Uganda's Kidepo continues from your balcony at Apoka Lodge. Bird watchers will relish their Uganda safari time spent in Kidepo as it boasts 475 species, some not found anywhere else in Uganda. Birds such as the black-breasted barbet, Karamoja apalis and the rose-ringed parakeet are just some of the rarer birds to see (and hear).
Uganda tours to Kidepo can be explored by traditional vehicle game drives as well as tracking game on foot. You may also take a cultural excursion to nearby villages. Ask your lodge to pack a picnic lunch as there are some spectacular spots to enjoy the scenery and solitude. Planning a Uganda safari; getting to Kidepo can take up to 2 days driving from Entebbe on extremely rough roads. The recommended mode of transportation is private charter flight from Entebbe.
Murchison Falls National Park 
Named for the roaring mighty waterfalls that cough right through the middle of the woods of the Murchison Falls National Park, Murchison falls  is one of the most-visited safari destinations for wildlife tours Uganda. The Park is actually the largest National park in Uganda with a whopping account of nearly 4,000 square kilometers between its borders.
The biggest attraction is the point where Victoria Nile crashes through a tight-knit Gorge and over an escapement of more than 40 meters in height. However, Uganda safari tours – goers can also look forward to game viewing on which is enhanced with a boat cruise to the bottom of the Murchison falls or to the delta point of Lake Albert, both cruises offer you a game viewing experience and a perfect bird watching encounter respectively on your booked Uganda tour. The Park is blessed with various wildlife species to include; the big five, over 450 species of birds, and chimpanzees at Budongo Forest Reserve.
Semliki Game Reserve 
Formerly called the Toro Game Reserve, this 85-square-mile (220-km2) reserve of grassland, savannah, forest and wetland habitats is bordered by Lake Albert to the north and the Ruwenzori Mountains to the southwest. The tropical lowland forest conserved in this park is ecologically linked to the Congo basin and provides a very different wildlife tour Uganda experience.
The giant hardwood trees and tangled undergrowth of the forest are home to many fascinating mammals such as Africa's smallest ungulate—the tiny pygmy antelope, which is hardly bigger than a hare. primates including the gray-cheeked mangabey, red-tailed monkey and De Brazza's monkey may also be seen. Other wildlife includes elephant, the Uganda Kob (the most common large mammal) and warthog as well as infrequently seen buffalo, leopard, lion, hyena, bushbuck, waterbuck, reedbuck, duiker and forest hog.
The reserve is an absolute paradise for Uganda trips holding birdwatchers, with 35 of the 385 species occurring nowhere else in East Africa. Specials such as the chestnut owlet, white-crested hornbill, African piculet and fiery-breasted bushshrike attract enthusiastic observers from far and wide.
Planning a Uganda trip to Semliki; The park has an airstrip and is about a 6-hour drive from Kampala, a 3-hour drive from Queen Elizabeth National Park and a 2-hour drive from Kibale Forest National Park.
Rwenzori Mountains National Park 
Rwenzori Mountains National Park has the highest mountains in Africa (after Mts. Kilimanjaro and Kenya),
the "Mountains of the Moon" are, in fact, the highest mountain chain on the continent. They rise 13,000 feet (3,963 m) above the western arm of the Rift Valley to 16,762 feet (5,109 m) above sea level, just north of the equator, and are usually covered in mist. The mountain chain is approximately 60 miles (100 km) long and 30 miles (50 km) wide, with Margherita as the highest peak.
A number of permanent glaciers and peaks challenge Uganda adventure safaris mountaineers. However, mountaineering skills are not needed for the hike itself — only for climbing the glaciers or peaks. Unlike Mt. Kilimanjaro and many other mountains in east and central Africa, the Ruwenzori's are not volcanic in origin. The range forms part of the border with the D.R. Congo and can be climbed from either the D.R. Congo or Ugandan side. The trail on the D.R. Congo side of the Ruwenzoris is much steeper than the Ugandan side.
The Afro-alpine vegetation zones and Afro-alpine heathlands you pass through on the Rwenzoris are the most amazing I have seen in the world. The nectar-filled flowers of massive lobelias and giant senecios attract jewel-like sunbirds while "Spanish moss" and ephiphytic orchids adorn gnarled tree branches. Several plants that are commonly small in other parts of the world grow to gigantic proportions in the Ruwenzori's.
Uganda adventure safaris Hikers in good condition can enjoy walking a strenuous circuit for 6 or 7 days that rises to over 13,000 feet (3,963 m) in altitude through some of the most amazing vegetation in the world. Walking routes trace the lower slopes and it is a region of great biological beauty. Successive zones of distinct vegetation ring the 6 major massifs of the Ruwenzori with woodland, evergreen forest, bamboo, boggy heathland and Afro-alpine moorland in a sequence up the slopes. Large mammals are few, but the Ruwenzori colobus, giant forest hog and yellow-backed duiker may be encountered. The exquisite Ruwenzori turaco is fairly common, while the Ruwenzori batis and bamboo warbler are found nowhere else in Uganda
Planning your Uganda hiking tours to Rwenzori; The main trailhead begins near Ibanda. Drive 6 miles (10 km) north from Kasese on the Fort Portal road, then turn left (west) for 8 miles (13 km). The mountain huts take up to 15 people. It is best to use a tour operator for the climb, otherwise, bring all your own gear as all the equipment you need may not be available for hire.
 Kibale National Park
This 296-square-mile (766-km2) park consists of lowland tropical rain forest, tropical deciduous forest, marshes, grasslands and crater lakes, and is the best place to explore Uganda Adventure safaris for chimpanzee trekking. The program starts at 6:00 a.m., from the time the chimpanzees leave their nests until slightly before dark, which allows guests to observe the chimps de-nesting and nesting as well as their other daily activities.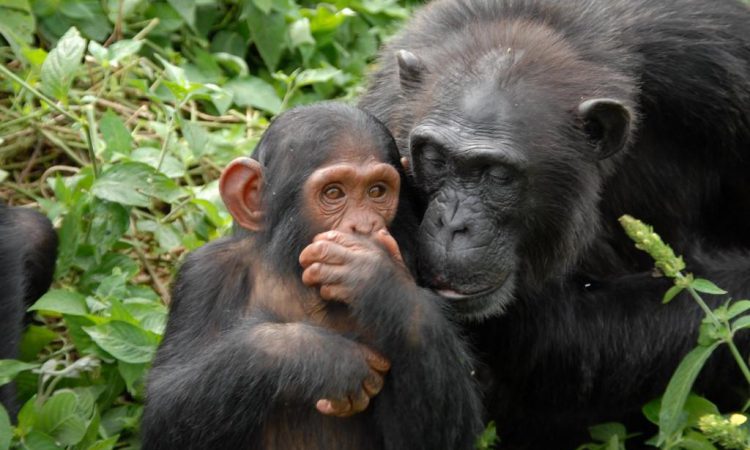 Uganda safaris with Chimpanzee trekking need to be booked well in advance.  Kibale National Park is considered by some experts to have the largest and most diverse population of primates in the world. Kibale is home to 12 other species of primates including black-and-white colobus monkey, red colobus, gray-cheeked mangabey and red-tailed monkey.
Some of the other wildlife species include blue duiker, Harvey's red duiker, bushbuck, bushpig and over 100 species of butterflies. Over 300 species of birds have been recorded, and experienced local guides  with their knowledge of calls and behavior are invaluable in this challenging bird watching environment. Green-breasted pitta, black bee-eater, white-headed woodhoopoe and the tiny chestnut wattle-eye are among the possible delights for keen observers.
Planning your Uganda wildife tours to Kibale; The park is located northeast of Queen Elizabeth National Park, 22 miles (35 km) south of Fort Portal.
Queen Elizabeth National Park
Queen Elizabeth National Park is the best park for Uganda tours seeking big game (other than primates), and contains about 770-square-miles (1,995-km2) of tremendous scenic variety, including volcanic craters and crater lakes, grassy plains, swamps, rivers, lakes and tropical forest. The snowcapped Ruwenzori Mountains lie to the north and are not part of the park itself.
The park was extended to give migratory species more protection as they move to and from Kibale Forest.  A 2-hour launch trip on the Kazinga Channel, which joins Lakes Edward (Lake Rwitanzige) and George, affords excellent opportunities for viewing hippo, crocodile and a great variety of waterfowl at close range on your Uganda safari tour. Truly marvelous photographic opportunities present themselves from the boat. The launch trip departs from just below Mweya Lodge and should not be missed by Uganda safari goers to Queen Elizabeth National Park.
The Katwe-Kikorongo area in the north of the park has several saline lakes. The Kyambura Gorge, located on the northeast boundary of the park, has a population of chimpanzees. Uganda adventure safaris Trekkers descend from the savannah into a tropical rain forest within the gorge where turacos, hornbills and flycatchers abound. South of the Kazinga Channel, the Maramagambo Forest is home for chimpanzees, black-and-white colobus monkeys, red colobus monkeys, blue monkeys, red-tailed monkeys and baboons.
The Ishasha region in the south of the park is famous for its tree-climbing lions. Elephant are present, as well as buffalo, leopard, sitatunga, giant forest hog, Uganda kob, topi and, Defassa waterbuck, and crocodile in the Kazinga Channel. Interestingly enough, there are no giraffe, zebra, impala or rhino.
An astonishing total of 547 bird species to be witnessed on your wildlife tour in Uganda here marks one of the highest figures for any single protected area in the world. Twelve species of kingfisher, including the giant (the world's largest) and the dwarf (the world's smallest) may be seen on waterways, in forest, and in the open savannah. There are 17 varieties of nectar-feeding sunbirds, flocks of red-throated bee-eaters, gangs of crow-like piapiacs, families of spectacular Ross's turacos in fruiting trees, and the rare, prehistoric-looking shoebill, which may be sighted along the shores of Lake George and in the Ishasha region.
Planning your Uganda tour to Queen Elizabeth National Park; From Kampala, the park is 260 miles (420 km) via Mbarara and 285 miles (460 km) via Fort Portal. A landing strip is located at Mweya for light
Booking your Uganda Safari Tour
Planning and booking your Uganda safari can be challenging especially if you plan to do it on your own. To skip most of the hassle, booking through a Uganda Safari Company will easiest the process, this is also arguably the most affordable way to book a Uganda safari tour.
Choosing a Uganda Safari Company
There are a number of Uganda safari Tour Operators but your choice should be driven mainly your budget, the reviews and experience a company has in operating Uganda safari holidays over the years. A Uganda safari operator will save you the hassle by handling all the groundwork and bookings for you and all you have to do is just fly in and enjoy a safari well arranged to your wishes.
At Masai Mara Holidays (Ltd), We are a registered Company in Uganda offering tours to the best of East Africa's safari land marks. Please feel free to reach out to our timely safari experts for a free quote regarding a safari of your wishes to any destination in East Africa.
From organizing Uganda gorilla tours, Chimpanzee tracking, birding tours and cultural tours in Rwanda to magical wildlife safaris in Kenya and Tanzania, we guarantee you will find a uniquely affordable experience in our service.
When to book your Safari to Uganda?
Booking your Uganda safari tour should be done in advance of at least 2 months or even a year. This is to ensure availability more so if your Uganda safari holidays includes gorilla and chimpanzee tracking. Permits to track these apes are sold out as early as 2 to 3 months of their trekking dates.
Statistically, Uganda gorilla trekking safaris and chimpanzee tracking tours are the prime attractions for a Uganda safari and dominantly make up most of our Uganda safari packages.
In addition to the permits to track gorillas and chimpanzees in Uganda, early booking for a Uganda tour also ensures that you get booked into the top-notch lodges and camps for your safari.
How to book a Uganda Safari Holiday?
Booking a holiday to Uganda involves a few steps starting with getting in touch with a reputable safari operator in Uganda. Most companies will have a number of tailored Uganda safari packages which you are open to choose from.
Do you prefer arranging your own agenda? A reliable Uganda tour operator should be able to accommodate your plans and wishes to come up with a safari package that should meet your preferences.
Upon finding a Uganda safari that meets your interests at an agreed price with an Uganda safari company, you will be required to make a deposit of this price to confirm your Uganda safari booking. This deposit lies anywhere between 30% to 60% depending on how much your safari operator will require to make initial booking payments for your safari.
Expect to make the final deposit for your Uganda safari tour in less than a month to your travel date. This will conclude your final booking process. From this point, you can then prepare for your safari to Uganda.                                     
Preparing for a Uganda Safari Tour
Preparing for your Uganda tour is something that you should do in less than 3 months from your arrival date for safari. The preparation stage includes; booking your international flight to Uganda (Fly to Entebbe International Airport), applying for your Visa, checking for your yellow fever vaccinations and packing for your safari
Applying for your Uganda Visa
First, and most importantly is applying for your Visa to Uganda, this can easily be done online through application. If you will be visiting Uganda alone, the single entry tourist Visa is what you will require. For visitors seeking to visit Uganda with extended trips to either Kenya or Rwanda, applying for The East African Visa will grant you entry to all the 3 countries.
Yellow Fever Vaccination
It is important to note that all visitors to Uganda are required to be vaccinated against yellow fever with proof of vaccination. You will be required to presented a yellow fever vaccination certificate at immigration. This certificate is considered valid from 8 day from your vaccination and remains valid to upto 10 years from the time of your vaccination.
What to Pack for a Uganda Safari?
There isn't anything special required for your safari in Uganda apart from the few basics to include the following;
Sundries
Passport (with printed visas)
Covid 19 Vaccination Certificate
Yellow Fever Certificate
Air tickets/vouchers
Money pouch Credit cards
Cellphone and Charger plus a Power bank
Sunglasses/guard Spare prescription glasses/contacts
Copy of prescription(s)
Eyeglass case
Small flashlight (torch) and extra batteries
Binoculars
Sewing kit Small scissors
Tissues (travel packs)
Handiwipes (individual)
Anti-bacterial soap
Pens
Deck of cards
Reading materials
Clothes
For safari wear, you should consider khaki earth tones (these neutral colors repel heat and so a good job disguising any patches of African dust and dirt) Keep away from the bright color options (black and blue too) they do attract Tsetse flies. In terms of fabric, light and breathable material makes life a lot more comfortable.
Sandals or lightweight shoes
Water proof hiking shoes (not white for trekking and walking safaris)
Wide-brimmed hat and a cap
Windbreaker Sweater or fleece
Rain Jacket
2–3 pr. Safari pants with one that is water proof for gorilla trek
Hand Gloves for gorilla trek
2–3 pr. Safari shorts
5 pr. safari/sports socks
3 short-sleeve safari shirts
3 long-sleeve safari shirts
Swimsuit/cover-up
1 pr. casual slacks or skirt 1 or 2 blouses
Belts
Is Uganda good for safaris?
Uganda safaris are an excellent choice if you looking for an ultimate safari experience (the big five) with lesser tourist traffic. Uganda as a country is Africa summed with almost all the best that the continent has to offer. Uganda safaris and tours take you home to one of the highest number of apes in the world.
The endangered mountain gorillas are found here among other lucky two countries(Rwanda and DRC) in the world, chimpanzees are also tracked here and do exist in huge numbers. Rwenzori Mountains that form Africa's highest existing mountain ranges welcome adventure lovers, Africa's largest fresh water lake, Lake Victoria, that is also exists with a fair share in Uganda.
In addition to Africa's best attractions, Uganda is also home to the source of might River Nile, Africa's longest river and with over 1041 recorded bird species, this makes Uganda one of Africa's best birding destinations.
How much does a Uganda Safari cost?
The cost of a Uganda safari tour varies with the type of safari you are looking for; types of Uganda safaris range from budget, midrange to luxury safaris accommodated in tented camps and lodges.
The price for a safari holiday to Uganda as offered by your tour operator or agent covers for accommodation, park entrance and permits, transport, meals and game activities.
Accommodation Safari Lodges and Tented Camps in Uganda
Accommodation for your safari in Uganda will range from budget, midrange and luxury lodges and tented camps. For a safari accommodated in budget lodges and tented camps, the cost lies anywhere below USD 60 per person sharing room for a night on a full board basis. If you will be traveling alone, expect to pay single room supplement.
Midrange lodges and tented camps in Uganda cost anywhere between USD 100 to USD 150 per person sharing room for a night on a full board basis. Similarly, if you will be traveling alone, expect to pay single room supplement.
Uganda Safaris and tours accommodated in luxury lodges and tented camps are the most expensive trips. Lodges and tented camps in Uganda offer a high-end price ranging above USD 250 per person sharing room for a night on a full board basis. If you will be traveling alone, expect to pay single room supplement.
Park Entrance and Permits
Park entrances to Uganda safari parks are your tickets to guarantee you entry to the parks and game activities. Permits are applicable for gorilla, chimpanzee, and golden monkey trekking in Uganda.
The park entrance fee to National parks in Uganda lies anywhere between USD 40 to USD 45 per person charged per 24 hours in the park. A gorilla permit costs USD 700 per person, whereas a permit for the gorilla habituation experience costs USD 1,500 per person.
A Chimpanzee trekking permit costs USD 150 per person for tracking the apes in Kibale National Park. A cheaper option is to trek the chimps in Kyambura in Queen Elizabeth National Park at a lower cost of USD 100 per person. The permit to track golden monkeys in Uganda found in Mgahinga Gorilla National Park costs USD 200 per person.
It is important to note that due to high demand for permits, booking in advance of 3 month or more to your trekking date is advised. This is to ensure availability. Unlike the permits, park entrances is paid on arrival and doesn't require any advance booking.
Transportation and Game Drives
The average cost for transportation and game drives per day lies anywhere between USD 150 to USD 350 per day depending on the season and type of vehicle. This cost covers for the vehicle hire, driver/guide and fuel. To cut down this cost, group sharing is recommended as these a 4×4 safari vehicles that accommodate a capacity of 4 to 7 occupants.
Generally, we advise that you deal with a tour operator in Uganda to get best out of your cost for a Uganda safari tour. A Uganda safari Company will offer you an all-inclusive quote for your trip to also handle the entire booking process for you at a cost lower than what you would spend if you decided to book on your own.
Is Uganda safe for a safari tour?
Uganda as a country has enjoyed almost 3 decades of a peaceful reign led by His Excellency Yoweri Kaguta Museveni. Visitors to Uganda have less to worry about than they have to do in other countries which makes the country safe for a safari tour to all corners of the country. In addition to the peace, the people of Uganda are well known for their extreme hospitality and love for welcoming visitors to their beautiful country.
What is Gorilla Trekking in Uganda look like?
Uganda is arguably the prime destination for mountain gorilla trekking in the world. The highest number (almost half of the worlds population) of mountain gorillas are found in Bwindi Impenetrable Forest National Park in Uganda.
The gorilla trekking experience in Uganda is magical offering you one hour to interact with the gentle apes in the mountainous forest home. Uganda gorilla safaris start at the park headquarters by 7:00 where you are briefed on the etiquette to later head into the thick jungles of Bwindi.
The chances of seeing the gorillas are almost guaranteed as the ranger keep track of their whereabouts on a daily basis. But as the terrain in Bwindi is mountainous, getting to the gorillas can be challenging and can last anywhere from 1 to 3 hours, however, this trail adventure is worth it.
What does Chimpanzee tracking in Uganda look like?
Chimpanzee tracking is a very popular activity on Uganda safaris, the chimps in Uganda are popularly tracked in Kibale National Park. Other destinations to track the apes include Kyambura Gorge in Queen Elizabeth National Park and Budongo Forest in Murchison falls National Park. The highest number of them being in Kibale Forest National Park makes it the most tracked destination featured in many Uganda safari tour itineraries.
The chimpanzee experience offers you a one-hour observatory interaction experience with these apes. Unlike the gorillas that a way too gentle, the chimps are more lively and playful with makes them more interesting to watch as they put on a show swinging through trees, fighting or mating.
What wildlife can I see on my Uganda safari?
There is a sheer diversity of wildlife in the various National Parks in Uganda, but with a whopping 500 species of mammals, the country has an amazing diversity. The big five list can be completed with a visit to the wildlife Parks and an extended trip to Ziwa Rhino Sanctuary for the rhinos. Uganda is also home to the remaining mountain gorillas, Chimpanzees can also be tracked here in their natural habitat. With a wide variety of over 1000 bird species, this makes Uganda one the best birding destinations for bird lovers
How much do you tip in Uganda?
Tipping in Uganda is not expected but wages are not so good as compared to your home country standards, therefore a tip will be well appreciated. A good tip in Uganda varies; for a driver or safari guide USD 15 per day, at a restaurant USD 1 is good whereas on safari, tipping the rangers or activity leaders USD 10 is a good tip.