Rwanda safari takes you to one of the smallest countries on the African mainland with its capital city being Kigali. Located a few degrees south of the Equator, Rwanda is bordered by Uganda, Tanzania, Burundi, and the Democratic Republic of Congo. While Rwanda's scars run deep from the 1994 Genocide, the country has done a great job of healing its wounds and turning towards the future with a surprising measure of optimism. Forming a natural frontier with the Democratic Republic of Congo and Uganda, the Virunga Volcanoes in Rwanda are home to some of the world's last remaining mountain gorillas. Tracking these primate relatives on a gorilla safari in Rwanda all through bamboo forests and Equatorial jungles is for many the highlight of their African Travel. In this land of thousand hills, Rwanda isn't all primate business. On the contrary, the country is a lush country of endless mountains and stunning scenery. The shores of Lake Kivu conceal some of the best inland beaches on the continent, while Parc National Nyungwe Forest protects extensive tracts of montane rainforest also harboring chimpanzees.
Popular Rwanda Safari Tours
Rwanda is home to the vast spectrum of East African wildlife as well as both classic safari scapes and verdant Equatorial rainforest. Although Rwanda safari encompasses a small network of National Parks, the culture and history of Rwanda equally contribute to the tourism landmarks the country offers. Rwanda is one of only two countries in which mountain gorillas can be visited safely and visitors pay high prices for gorilla tracking permits. The most popular protected area is the Parc National de Nyungwe, Rwanda's newest national park which is a tropical montane rainforest that is one of the richest primate destinations in the region. Parc National de L' Akagera is third of Rwanda's parks, but sadly a shadow of its former self due to the habitat destruction during the civil war but has been seen to make a comeback over the years.
Gorilla Tracking Rwanda
An encounter with the mountain gorillas in Rwanda is the highlight of a trip to Africa for many visitors. The encounter with a well-grown silver-back male gorilla at close distance can be a hair-raising experience, especially if you are used to only seeing large animals in a zoo cage or from the safety of a year. Yet in spite of their intimidating size, mountain gorillas in Rwanda are remarkably non-aggressive animals, entirely vegetarian, and quite safe to be around. For most Rwanda Safari travelers, gorilla tracking is worth every dollar spent. On the other hand, mistake around it, gorilla tracking in Rwanda is not an entire joy ride. The guides can generally find the gorillas within one to four hours of starting out, but this often involves a lot of strenuous effort scrambling through dense vegetation up muddy hillsides sometimes to altitudes more than 3000m. There are several habituated gorilla groups in Volcanoes National Park, including the Susa group which requires the most able-bodied and all-around fit individuals. Shockingly It is the most opted-for group by most visitors as it is the largest group in the park. Not everyone can get the chance to track the Susa group but there are more groups to track such as the Sabinyo group which is a good choice for visitors seeking a less challenging trek, gorillas here can be found in 30 minutes to an hours time. Group 13 and Amahura are also popular although no matter what group you end up tracking, you are most likely to have a memorable experience.
Popular Rwanda Gorilla Safaris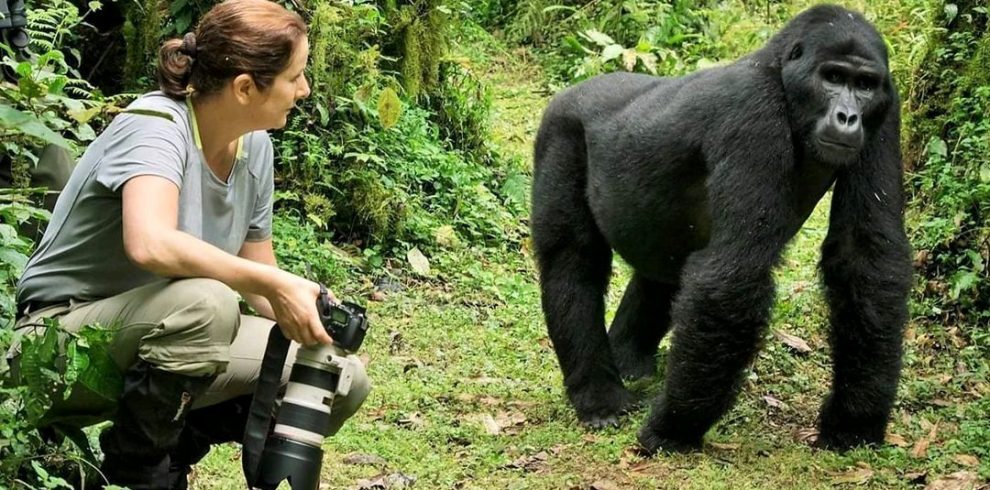 This 3 day Rwanda Gorilla trekking Safari takes you on a journey of a lifetime. Interact with Africa's most endangered…
View Details
This 4 Day Gorilla Tracking & Lake Kivu Safari starts with your in Kigali, enjoy a half-day city tour before…
View Details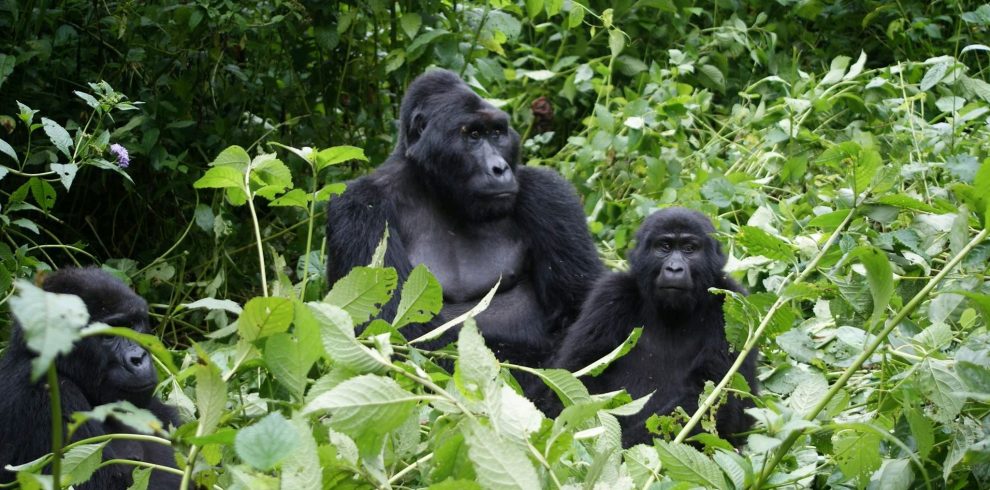 This 6 Day Primate Tour Rwanda leads you to Rwanda's primates and a touch of wildlife, offering the best of the country…
View Details
Volcanoes National Park
Volcanoes national park also known as Parc Nationals Des Volcans is without a doubt the number one place to visit in Rwanda. Volcanoes National Park shares a bother with Uganda and the Democratic Republic of Congo and is home to a growing number of critically endangered mountain gorillas.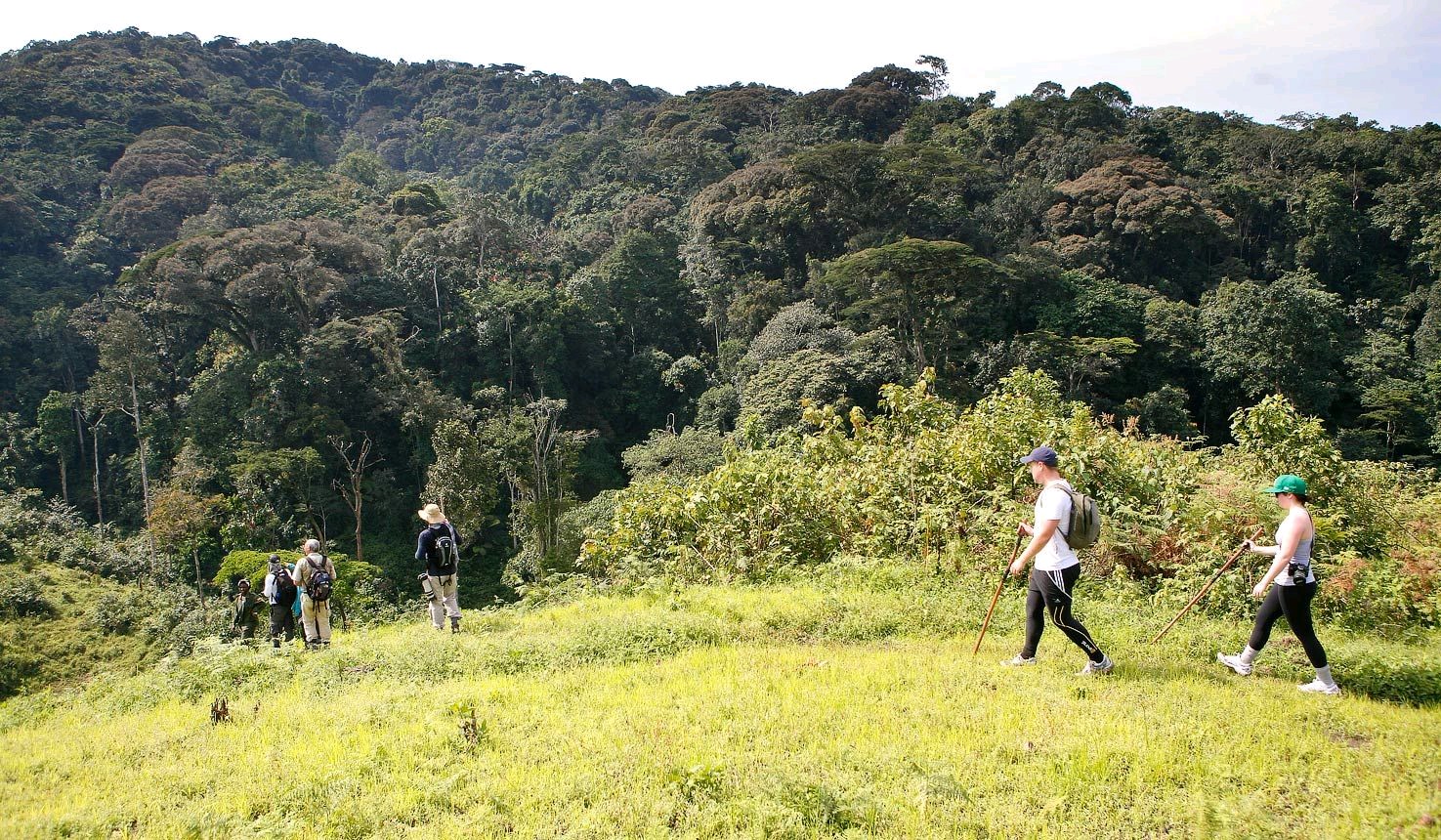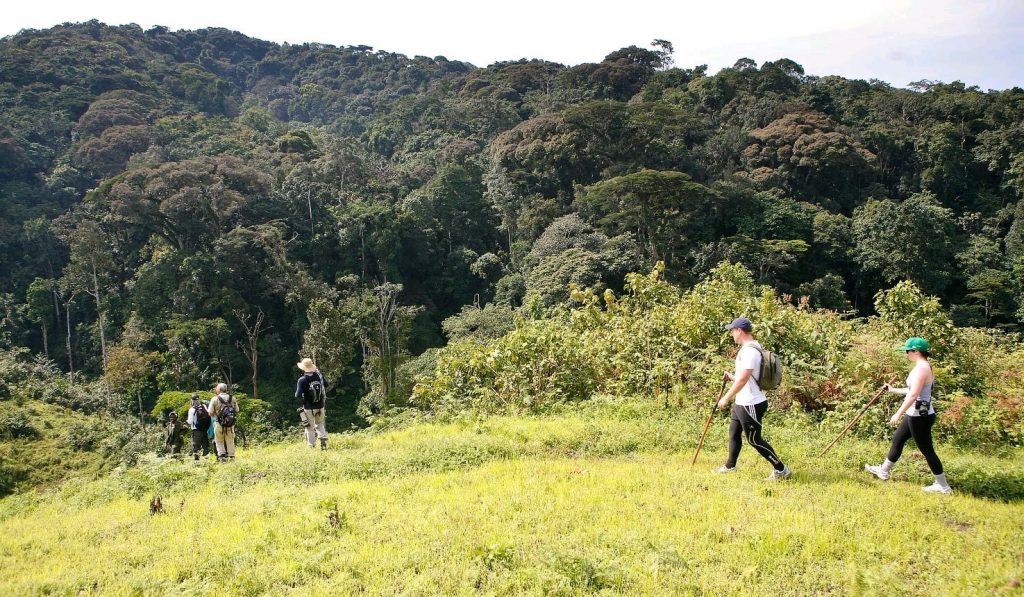 Comprised of five volcanoes – the highest, Karisimbi is more than 4500m – the Virungas is one of the most beautiful sights in both Rwanda and the whole of Africa. experts estimate that there are about 600 gorillas in the park a significant increase from around 240 to 250 in 1981.
To visit one of the 18 mountain gorilla families that have been habituated to humans you'll need to obtain one of the limited numbers of daily tracking permits for $1,500. the easiest way to do this is through a reputable tour operator who can also arrange transportation from Kigali to the park headquarters. The gorillas share volcanoes national park with golden monkeys which also can be tracked here. the mountain gorilla trekking experience typically lasts between four and eight hours most of which is spent hiking through mystical bamboo forests wild meadows in swampy areas guides from the National Park Service who eventually lead you to one of the habituated gorilla families. You will spend one hour observing the gentle giants as they eat, care for their babies, and interact with one another.
Gorilla Guardian Village – Iby'iwacu
The Gorilla Guardian Village is also known as the Iby'iwacu cultural Village which means "treasures of our home and heritage" is a place to add up to your Rwanda Safari itinerary, it is one of the prime spots that will immerse you into the culture of Rwanda. The nonprofit cultural village offers you the chance to try your hand at the wonders' most famous crafts and activities. You will learn how to carry a basket on your head like the Rwanda women do, shoot an arrow and grind wines with a heavy stone. The enthusiastic guides make the entire experience feel like a big party and it is worth sticking around for the intro dance recitals at gorilla gardens village. The traditional dancers that are topped with long straw wigs and skirts pull on an exciting show to the beat of local Drums. The beauty of the Gorilla Guardians village is the fact that you participate in all activities which makes it hard for you to live on your own.
Golden Monkey Tracking Rwanda
Golden monkey tracking in Rwanda is also done in Volcanoes National Park, in East Africa; we can track golden monkeys in the adjacent Mgahinga National Park in Uganda as well. More like chimpanzee tracking than gorilla tracking, these beautiful and active monkeys bound about the branches of bigger trees. If you are looking for an activity to couple up with gorilla trekking in Volcanoes National Park, do not miss golden monkey tracking. These monkeys are subspecies of the wider spread blue monkey but are distinguished but their gold body coloration contrasts sharply to black patches on their extremities. Golden monkeys are also classified as an endangered species and a permit to track golden monkeys in Rwanda costs $250
Musanze (Ruhengeri)
Located next to the formidable border between Rwanda, Uganda, and DRC, Musanze is the preferred staging post for most travelers on the way to Volcanoes National Park (Parc Nationals des Volcans) one of the best places to track mountain gorillas in East Africa. Since gorilla permit holders are expected to check in the park headquarters in nearby Kinigi at 7 am on the day of tracking, staying in Musanze is a much safer option than leaving from Kigali at the crack of down. You could also consider an extra day in Musanze after your gorilla trek as it is a pleasant town situated near a number of interesting natural sights. Musanze cave just 2km outside the town is a good spot to start while the nearby lakes of Ruhondo and Burera are ripe for independent exploration. Musanze's impressive views make up for the magnificent town it is, with the might Virunga volcanoes – Karisimbi, Bisoke, Sabinyo, Gahinga, and Muhabura looming north to west.
Climbing and Trekking the Volcanoes
Hiking the volcanoes is a very unique experience characterized by shivering more than sweating, the volcanoes high up, old and great towering up to 15,000 feet, and nearly covered with rich, green rain forest. The stunning Virungas serves as an evocative backdrop for a guided climb or trek. The climbing routes path through some remarkable changes in vegetation, ranging from thick bamboo forests, giant lobelia or hagenia onto alpine meadows. If the weather is favorable, the reward is some spectacular views over the mountain chain. There are several possibilities for climbing up the summits of one or more of the volcanoes in the park, with treks ranging in lengths from several hours to two days. Popular hikes include the kirisimbi climb ( 4507 m) which is the highest summit in the Virungas that takes two long days, the Bisoke climb (3711m) takes six to seven hours from parking Bisoke. The popular hike to Dian Fossey's Grave where Dian Fossey was buried alongside many of her primate subjects. The hike is 2 hours. Other possible hikes include climbing Sabinyo and Climbing Gahinga.
Lakes Ruhondo and Burera
The outskirts of Musanze are home to two lakes, which are dotted with small villages. While Ruhondo and Burera are not officially set up for tourism, you can easily have an adventure on a boat cruise which can be done with the fishermen. The scenery at the lake is breathtaking as the shores are heavily terraced and cultivated with crops, and the Virunga volcanoes loom ominously in the distance. Even without a boat cruise, you can stop by for a spectacular photo moment.
Nyungwe forest National Park
Nyungwe Forest National Park is located southwest of Rwanda, it has diverse flora and fauna with over 200 species of birds in the area. Within the park, you will find not less than 1000 plant species to be explored on your Rwanda Safari including the rare orchids, 13 species of primates including more than 500 chimpanzees, 75 species of mammals, at least 275 species of birds, and astounding 120 species of butterflies. It may sound unexpected but Rwanda is home to one of Africa's last Romanian high-altitude tropical rainforests situated in Nyungwe Forest National Park. It is one of the most biodiverse forests in the world and is home to more than 1000 plant species as well as 275Albertine rift endemic bird types an attraction that brings in bird watchers from all over the globe. A Rwanda Safari Tour here must include a high canopy walk that takes you to the treetops to view the forest in its full majesty although the strongest downcard is the chance to track chimpanzees. Columbus monkey tracking in Rwanda is also done here. Nyungwe Forest National Park is supported by both US aid and a global development company with the overall aim being to make Nyungwe a viable eco-tourism destination where resources are invested into the local community and a sustainable income source is created for regional natives.
Lake Kivu
As one of the Great Lakes in the Albertine Rift Valley, Lake Kivu is a freshwater lake located along with Rwanda's eastern border with Congo. This 2700 square kilometers lake is surrounded by Misty Mountains and has the world's 10th largest island, Idjwi in it. Lake Kivu has a lively waterfront sand beach and stunning resorts that offer an ideal relaxation experience on your Rwanda Safari. Majors resort hotels here include the lake Kivu Serena Hotel. Arrangements for a stunning sunset kayak trip with singing fishermen on lake Kivu can be made as well as multi-day paddling adventures that will leave you in the full glory of the lake.
Akagera National Park
A land of water, grass, and fire is the literal translation of Akagera national park which is located between Rwanda and the border of Tanzania towards the eastern direction. breathtaking Akagera National Park is home to some of the most impressive wildlife on the planet including elephants, zebras, buffaloes, baboons leopards among other wildlife who have found a home here amongst the stunning Savannah, dramatic mountains, green grasslands, and Lakes. Managed by the African parks organization, the 1040 square kilometer expanse is one of central Africa's largest protected lands. Akagera offers wild game viewing on a Rwanda safari as the park boasts of all the big five animals along with an abundance of birds and antelope species. The park has also included lions and Rhinos but there are a lot of zebras, hippos, elephants, and giraffes on the South drives.
Kigali City
Many travelers on a Rwanda safari circuit usually spend only a night in Kigali before gorilla trekking missing out on the vibrant culture, cuisine, and sightseeing in Rwanda's capital city. To walk upon bespoke clothes from swirling pots and textiles and experience an energetic atmosphere at Kigali's largest market Kimisagara market, the White House space is like a maze with surprises around every corner. Kigali offers a creative scene at a NEMA Art Center, the gallery showcases the works of up to ten local artists and nearby awaits the Rwanda Art Museum of the former presidential palace which displays some of the finest contemporary pieces from Rwanda and nearby regions. You can also see remains from the financial aircraft that crashed in 1994. Rwanda has a rich cuisine which you can consider exploring on your Rwanda safari, This land of a thousand hills is blessed with an open variety of kitchens and restaurants with succulent meals and jaw-dropping coffee drinks. La panorama restaurant at Hotel de Mille Collines offers dazzling views of the city along with even more romantic setting heads of fusion restaurants. The alfresco dining room at the retreat hotel that overlooks a twinkling pool serves homemade pasta flavorful starters and fresh seafood. Kigali is definitely much of everything in Rwanda from history to the people. It is also known to be the cleanest city in Africa.
Kigali memorial Centre
Kigali Memorial Centre is a plain modern building located in the city of Kigali surrounded by gardens which is a site of one of the largest massacres during the 1994 Rwanda Genocide. This is a significant site that should not be missed on your safari in Rwanda as the exhibition here is both shocking and thought-provoking in attempts to piece together the causes and events of the genocide which destroyed Rwanda in 1994. Downstairs is dedicated to the Rwandan genocide; the informative tour includes background on the divisive colonial experience in Rwanda and the steady build-up to the genocide. Exhibits are professionally presented and include short video clips in French and English. As the visit progresses, it becomes steadily more powerful, as you are confronted with crimes that took place here.99.9% of the Rwanda population was affected by the horrific violence of the genocide, a dark past that makes the present friendliness and goodwill of the country. The museum continues with another permanent exhibit on the history of the genocide around the world as intervention efforts of international communities are happy to put the Rwanda genocide into context. The museum also includes an emotional choice children's room dedicated to the youngest victims of the genocide, it keeps the memory alive through oversized projects of the children some of whom were just infants when they were killed, and personal details of all the victims like their nicknames and favorite books. Why did Rwanda descend into 100 days of madness? The Kigali Memorial Centre explains it as best as it can, but no one can answer the fundamental question of what it takes to turn a man into a beast. While it is heartbreaking, visiting the Kigali genocide memorial on your Rwanda Safari Tour is an important part of being a responsible tourist in Rwanda.
Nyamata and Ntarama Genocide Memorials
During the genocide, victims fled to churches seeking refuge, only to find that some of the clergy was providing information to the Interahamwe. As a result of their lack of compassion, some of the most horrific massacres took place inside the holy sanctums of churches throughout Rwanda. Two of the most powerful genocide memorials to be explored on your Rwanda Safari tour are churches located on the outskirts of Kigali. Nyatama, about 30km south of Kigali, is a deeply disturbing memorial where the skulls and bones of many victims are on display. While the visual remains of the deceased are a visceral sight, their inclusion here is to provide firm evidence to would be genocide deniers. The Church at Nyamata, about 25km south of Kigali, is more understated but no less powerful. The church has not been touched since the bodies were removed more than a decade ago and there are May bits of clothing scraps still on the floor.
Best time to Visit Rwanda
Safari in Rwanda can be visited any time of the year if you do not mind getting wet, you will want to avoid the long rains of mid-March to mid-May. The dry season from mid-May to September is easier for Rwanda mountain gorilla safaris. The peak season for Rwanda gorilla tracking is July and August and traveling outside this time means that it will be easier to get hold of a gorilla permit. For more details on planning your trip, feel free to get in touch with our expert advisors that are ready at your service.
Planning a safari to Rwanda
Planning a safari to Rwanda is easily done with help of a reputable safari company that can organize for you a trip to meet your safari interests. At Masai Mara Holidays, we offer Rwanda safari holidays that feature the country's wildlife, culture, adventures, and sightseeing landmarks. Our carefully crafted Rwanda safari packages also feature extended tours to neighboring Kenya, Tanzania, and Uganda.
Rwanda Visa Acquisation
You will require a visa for your Safari in Rwanda. Rwanda tourist Visas are acquired by everyone except nationals of Canada, Germany, SouthAfrica, Sweden, the UK, the USA, and other East African Countries. Visas in Rwanda can be acquired on arrival.
Facts about Rwanda
Rwanda has a population of over 2.3 million living on 23,838 sq. meters of land making it the most densely populated county in mainland Africa. Rwanda's developing economies suffered heavily in wake of the 1994 genocide but have strengthened. The economy is based mostly on subsistence agriculture with coffee and tea are the major cash crops for export. With a nominal GDP of 10.2 billion dollars and nominal GDP per capita of 830 dollars. This 2.3 million populated country has English, French, Kinyarwanda, and Swahili as official languages and used the Rwanda franc asset official currency. The country experiences a temperate subtropical climate with two rainy seasons and two dry seasons each year. Tourism in Rwanda is a fast-growing sector in Rwanda and is now the country's leading foreign exchange earner.