Tanzania is not only one of the most beautiful countries in Africa but indeed the world. Tanzania Safari Tours offer a rare blend of natural beauty and unparalleled wildlife viewing opportunities. Tanzania Safari experience has constantly been reviewed by many travelers as one experience to be treasured for a lifetime
Tanzania Safari Packages
---
Tanzania Safari
Destinations
Tanzania's main safari destinations can be split into the north (The Serengeti and Ngorongoro Crater) or the south (The Selous and Ruaha). Most travelers flock to the northern circuit as it is comprised of the popular highlights of Tanzania Safari – and rightly so as the wildlife is phenomenal. However, the fame of the north can often overshadow the south, which in our view is one of East Africa's best kept secrets. West Tanzania is also an option, though this is extremely expensive to get to and hardly any tourists do as a result. As a rough guide – when 70% of travelers head to the north, 25% go to the south, and only 5% or less venture to the West.
Ngorongoro Conservation Area
Ngorongoro Conservation Area is located between the Serengeti and Lake Manyara National Park about 160 kilometres from Arusha. A Conservation Area basically means that humans and animals can live in the area, this is abit different from a National Park since National Parks are conserved for wildlife only. Ngorongoro includes a couple of things among these are; 80,000 Maasai people who live here but the most significant part of Ngorongoro is the crater.
It's the world's largest unbroken caldera. It's a basically a huge open amphitheater with walls about 600 meters high. Inside of the Caldera is 260 kilometers square and basically a big flat area.It has open grasslands, swamps, lakes (both fresh and salt water lakes) but the amazing bit about Ngorongoro is that it was created from a volcano
Tanzania Safari Ngorongoro crater takes you to one of Tanzania's most popular wildlife viewing areas. this huge volcanic crater has a permanent supply of water which draws thousands of animals. Many visitors come here primarily for viewing large animals and bird watching, thousands of animals can be seen on the crater floor including: lions, elephants, rhinos, Thomson's gazelles and buffaloes but wild beasts and zebras account for over half of the animals that call Ngorongoro crater home. bird-watching is superb especially around Lake Magadi which attracts flocks of flamingos to the shallows, hippos are content to submerge themselves during the day and then grace in the nearby grass in the evening. Ngorongoro is known as the largest intact ancient caldera in the world, nearly 3 million years old. Ngorongoro volcano was one of the world's tallest mountains before it exploded and collapsed.
Serengeti National Park
Serengeti National Park is a vast treeless plain with millions of animals living here or passing through in search of fresh grasslands. The Park is most famous for the annual wildebeests migration but you can also see the big five here and nearly 500 species of birds have been recorded on the Serengeti.
As the second largest National Park in Tanzania, the Serengeti attracts tens of thousands of tourists each year, the best months of wildlife viewing in Serengeti National Park are between December and June. The wet season is from March to May with the coldest period from June to October
Serengeti in Swahili, the local Tanzanian language widely spoken in East Africa means "endless plains that stretch right up to the sky". Tanzania Safari Serengeti National Park is particularly renowned for the Great migration which involves over a million wildebeest, couple of hundred thousand zebras, a couple of hundred thousand gazelles moving from the dry part of Serengeti to cross over to Masai Mara National Reserve. This annual migration of over 1.5 million wild beasts and hundreds of thousands of zebras and gazelles takes place in May or early June, this migration is one of the most impressive natural events and a primary draw for many tourists.


Mount Kilimanjaro
Mount Kilimanjaro is Africa's highest peak at 5,895 metre; Tanzania's most iconic image Mount Kilimanjaro National Park unlike other parks in northern Tanzania is not visited for the wildlife.
This mountain can be climbed at any time of the year although the best period is from late June to October during the dry season. Kilimanjaro, a World Heritage Site was formed over 1 million years ago by volcanic movement along the Rift Valley. Three volcanic cones Shira, Kibo and Mawenzi came to be about 750 thousand years ago,
the highest point is Uhuru peak on cable which is one of the seven summits of the world. Tanzania Safari Kilimanjaro takes you to altitudes rising from fam lands on the lower level to rainforests an alpine meadow and then barren lunar landscapes are the peaks the slopes of rainforests are home to buffaloes, Leopards, monkeys, elephant and the Alpine zone is where bird watchers will find an abundance of birds of prey there you have a dispersed
Selous Game Reserve
Selous is a licensed game reserve in Africa established in 1922 and covers 5% of Tanzania's total area. The southern area is a Forbidden Zone that is undeveloped, heavily forested and contains a series of steep cliffs.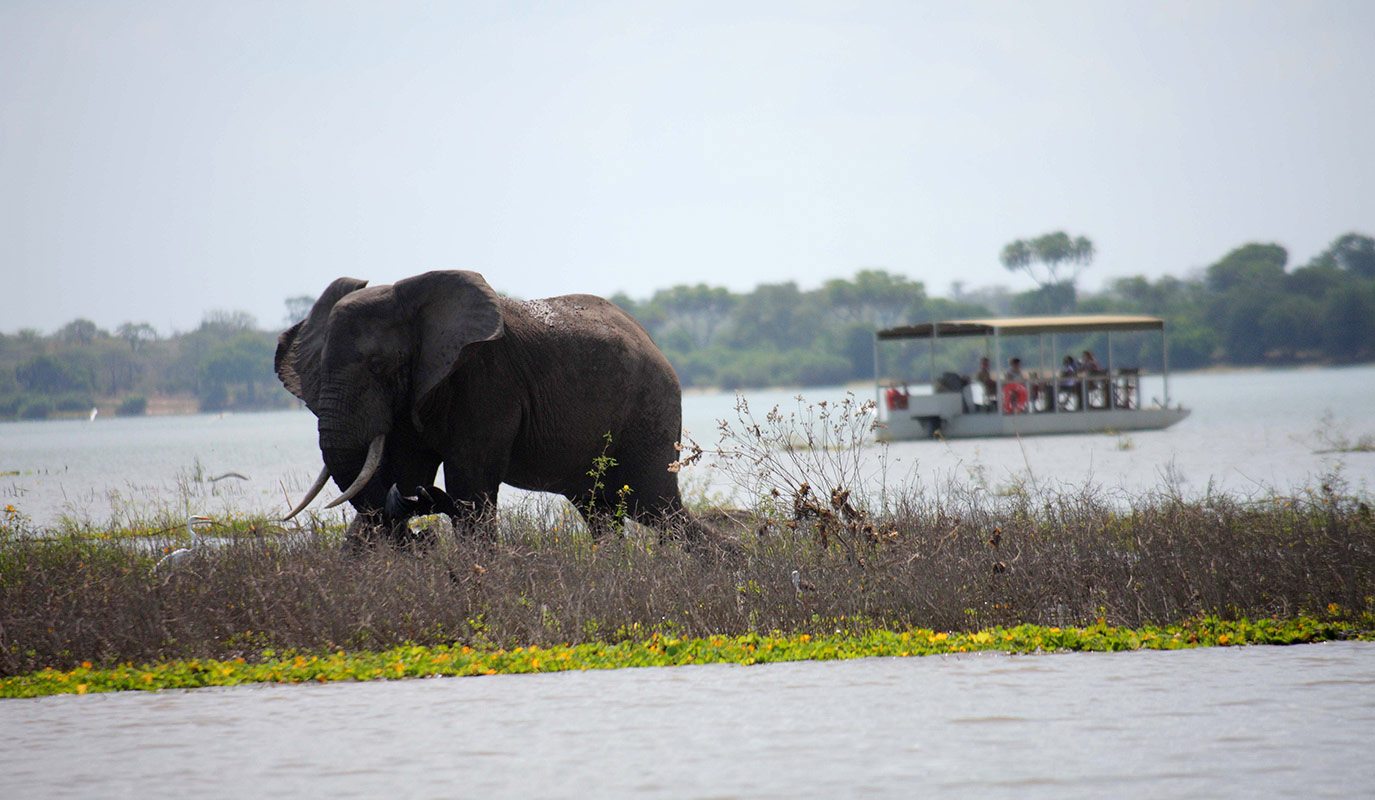 Travelers are limited to the area north of the Rufigi River, this area of Selous game reserve has a large open grassland ,woodland, rivers, hills and plains. The best time to visit Selous is July through October. The Rufigi river bisects The Selous Game Reserve and has the largest catchment area of any River in East Africa,
the river is an important feature of the reserve providing the opportunity to watch the diverse water-based wildlife; a broad range of wildlife can be found including: elephants, hippos and rhinos as well asbuffalos,antelopes,giraffes, warthog, wildebeasts, lions monkeys and cheetahs. The diversity of bird life in the Selous includes over 350 recorded species
Tarangire National Park
Tarangire National Park is about 120 kilometers from Arusha and 160 kilometers from the Kilimanjaro Airport, this makes it very convenient if you're flying in from either of the two airports.
Tarangire is the sixth largest park within Tanzania and was the fifth to the opened after Tanzania's independence from Britain. Tarangire National Park was established in 1971. In terms of big attractions: there's lots of baobab trees everywhere and also what's very important about this particular park is the Tarangire River which attracts lots of wildlife and bird species during the dry season
The months; July to September are very dry which makes it difficult for animals to find water, but the river keeps flowing and so many wildlife species are attracted here, So it's particularly the best time to visit Tarangire National Park which makes Tarangire National Park definitely one of the must do things.
Ruaha National Park
Ruaha National Park is home to large herds of buffaloes and gazelles and has one of the largest concentrations of elephants in Tanzania.
The Great Ruaha River is the main feature of Ruaha National Park providing magnificent wildlife viewing on the banks. The river also provides most of the electricity to Tanzania through a hydroelectric dam at kita
Ruaha national park is the least accessible Park in Tanzania and as a result the landscape remains relatively untouched, bird watchers can enjoyover 400 species of birds that are not found in northern Tanzania under spectacular gorges and majestic trees especially appealing to photographers
Masai Cultural Visit
Maasai are people you'll see as you travel around Tanzania, and are very distinctive as they're wearing cloth robes often in red or blues. They are the indigenous people and a very important tribe within Tanzania, and across the country you can go to different villages which help explain some of their heritage, history and the way the people live.
With a visit to one of the communities In Ngorongoro you'll see some traditional dancing and singing on top of which you can acquire new skills; They'll show you how they make fire without using any sort of combustibles, They will also show you practically how their houses are made. This is also a perfect time to check out some of their beautiful craft work which is also available for purchase.
The great thing about going to the village is you get a real sense and understanding of the Maasai people of Tanzania and also gives you a chance to give back to the community.
To get your self a good deal to visit these must-see things, simply check out our tailor made Safari packages to Tanzania then contact our experienced tour experts at Masai Mara Holidays to get your self a Tanzania Safari at the best price.
Zanzibar
Zanzibar is an exotic island kingdom of former slave traders and fishermen which has reinvented itself as a tourism hotspot, it was the culture and history in stone town which is seemingly at odds with its idyllic geography of white sand beaches and coconuts palm in the Seabreeze but it is precisely this diversity which makes and about such an attractive and varied island to explore
and above and below the water as well as a dream designation for simply relaxing and recharging for those with deep pockets on a healthy budget nothing beats the exclusive satellites islands of member of the northeastern tip of Zanzibar with one exclusive and Beyond Lodge number is the
very pinnacle of tropical island each cheek luxury for the rest of us mere mortals there is a dizzying array of around 800 hotels beach resorts guest houses and other accommodation options to choose between on the main island it almost goes without saying this is not a place we should come if you don't want to see other tourists at this destination because this destination always has a full house
Stone Town
Stone town is a cultural heart of Zanzibar and later has changed in the last 200 years, the grand old Arabian homes lining the narrow streets and winding alleys give the city its own unique charm the majority of homes in stone town were built in the 19th century when Zanzibar was one of the most important slightly trading towns in the Indian ocean business.
You will notice the intricately carved wooden doors on many of the houses as the world's oldest functioning swahili city. Many of the landmarks in stone town have been restored to their original glory as some of the historic buildings, museums and tourist attractions. The town also has a couple of interesting churches of historical significance,
a walk along creek road takes visitors to the original stone town area and the location of the Dharasana market, bite al Imani City Hall and the Anglican Cathedral. Some of the other key highlights include the photo Danni Gardens the oldest pantry with it's carved wooden balconies, the former home of the Sultan's known as Beit el Sahel or the People's Palace, the Harmony Persian baths built in 1888 and the orders structure in stone town the old fort
Mafia Island
Further south lays the beautiful Island of Mafia, a touch more sophisticated and exclusive than Zanzibar but without the member price tag. This is an exciting coconut covered island to visit.
The beaches are superb and it's mangroves and marine park ensure that the marine life is beautiful and underwater super experience far superior to Zanzibar or Pemba more out-of-the-way and a little harder to reach. Mafia Island is a place for adventurous travelers and
diving connoisseurs, the star on the water attraction is the dosa and completely harmless whale sharks that frequents the islands waters between October and March each year
Unguja

looking for a picture perfect place to visit in Tanzania then Unguja should be on top of your pocket list, Unguja has aquamarine waters made up of soft sands and immersive swahili market once stood in by Sultan's and British imperialists.
The capital of stone sound here burst with coral stone fort Persian palaces and European front spaces and then there are the beaches from seaweed spattered kendwa to whiter than white new way and in salted washed bungalows on the shore.
This little item in the Indian Ocean really did earn its place as a byword for tropical perfection
Planning a Tanzania Safari
There are certain factors you should consider when planning a trip to Tanzania, first how will you arrive; it is possible at times to find cheaper airfare into Nairobi Kenya however extra visas vaccinations and transfers will be required upon your arrival to Kilimanjaro international airport.
Acquiring a Tourist visit Visa
Single Entry Tanzania Tourist Visa Cost $50 and can be acquired at point of entry (border or Airport Immigration desk) or online. However we wouldn't recommend the online process because many of our travellers have found if lengthy and disturbing.
Documents required when applying for a tourist visit visa

.
Copy of your Passport (Bio-data page)
Copy of a recent Passport size Photograph (copy)
Travel Itinerary (for East African Visa)
Yellow Fever Vaccination Certificate copy
Return Air Ticket (copy)
You can acquire an East African Visa if you're going to do a safari to Uganda, Rwanda or Kenya which saves you on logistics
What to wear on a Tanzania Safari
While on a safari to Tanzania, dressing accordingly is more of a safety kind of thing than comfort. First and fore most avoid bright colored clothes especially blue or black navy blue and black. These colors tend to attract the tsetse flies, so what you want to focus on is the khakis greens Browns which are basically the earth tones. These colors make hard to recognize dirt and are less attractive to tsetse flies. Never the less you could wear white but you're gonna be really dirty because it is so dusty on a Tanzania safari.
We also recommend that you stay away from the short shorts and tank tops, the more skin show is the more feed there is for the mosquitoes, tsetse flies and other little bugs not forgetting the Sun since the sun is quite very hot near the equator, you can get burned very quickly.
Sleeves that roll and trousers that zip off are the best because when it does get really hot during the day you may want a little more breeze but it's nice to be able to cover up too for the bugs and intense sun.
Also acquire a round billed hat because it protects your head, ears and back your neck from the direct Sun, it is very important to have one. The weather in Tanzania depends on the season you're coming. If you visit on a safari to Tanzania in August or September it gets really hot during the day but it can cool off a little bit in the evening.